Double Seat Quad Biking Dubai
Double seat quad biking dubai is a great way to experience the thrill of off-road riding with a friend while discovering the natural beauties of Dubai's deserts. It's a once-in-a-lifetime vacation that blends nature, the Arabian Desert's distinct appeal, and adventure.
Double seat quad bike is a four-wheel vehicle specifically designed for two persons. It offers a thrilling experience for those who want to visit the Dubai Desert oasis. Moreover, it offers the ideal setting for this amazing activity with its enormous, undulating sand dunes and magnificent desert vistas. Couples, friends, or families wishing to connect during an exhilarating ride might choose the activity, which normally allows two riders to share a single quad bike.
Are you looking for an exciting adventure in the Dubai Desert? Double-seat quad biking is a great way to explore the landscapes of Dubai with your partner. We are a renowned tour company in Dubai that offers awe-inspiring activities such as quad biking, dune bashing, and camel riding. Plan your trip now we're just a few clicks away!
Double Seat - Quad Biking Dubai Price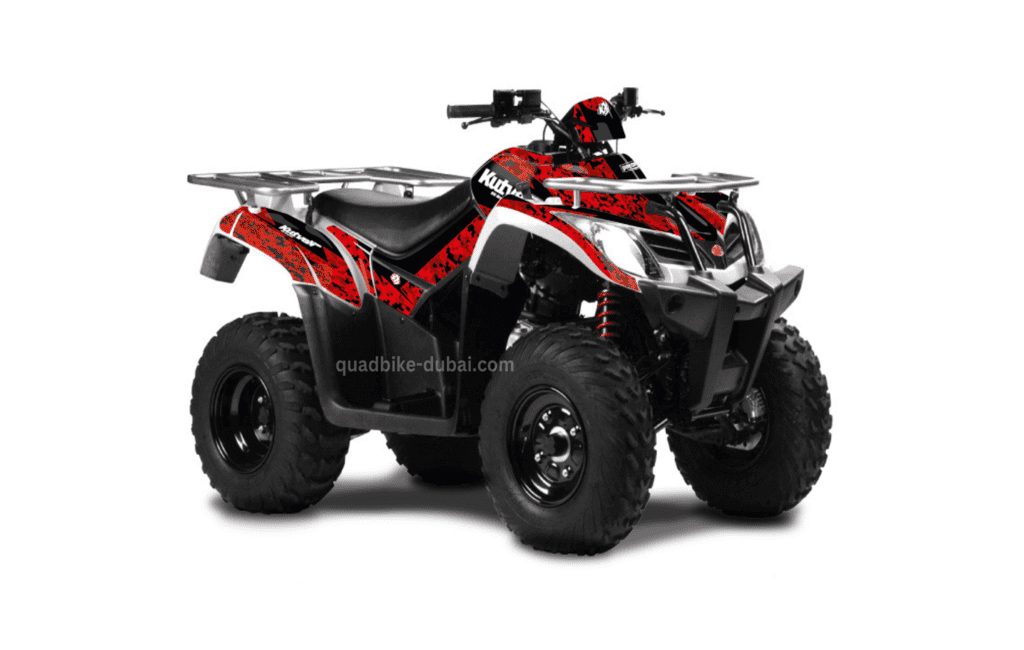 In-Circle Dubai Quad Biking
Duration
New Price
Old Price
30 Minutes
150 AED
220 AED
1 Hour
250 AED
360 AED
2 Hours
350 AED
500 AED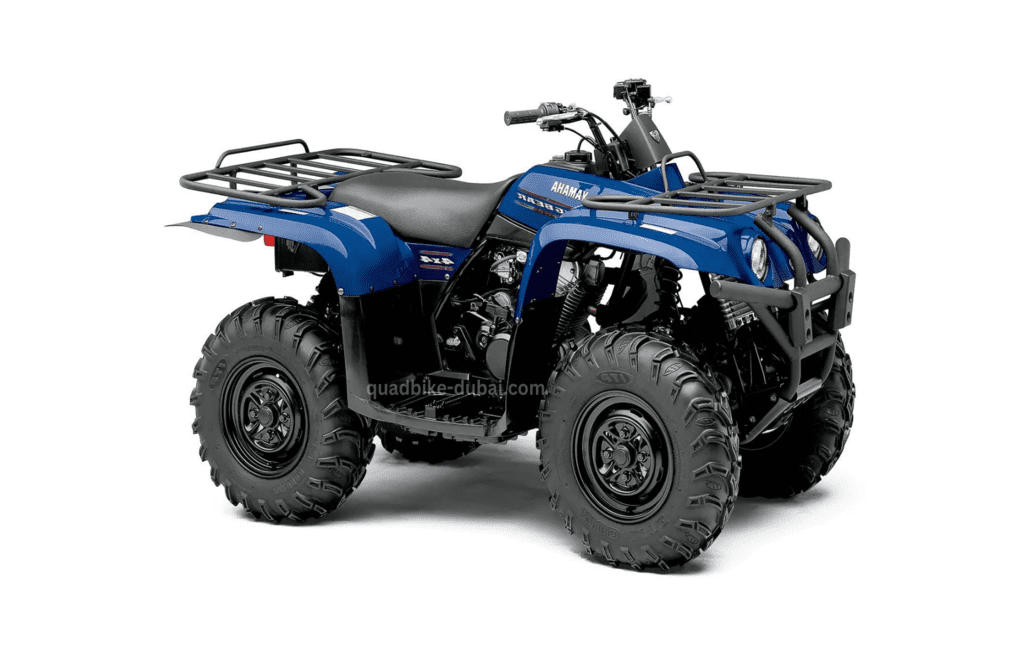 Open Desert Quad Biking Dubai
Duration
New Price
Old Price
30 Minutes
300 AED
430 AED
1 Hour
450 AED
640 AED
2 Hours
600 AED
860 AED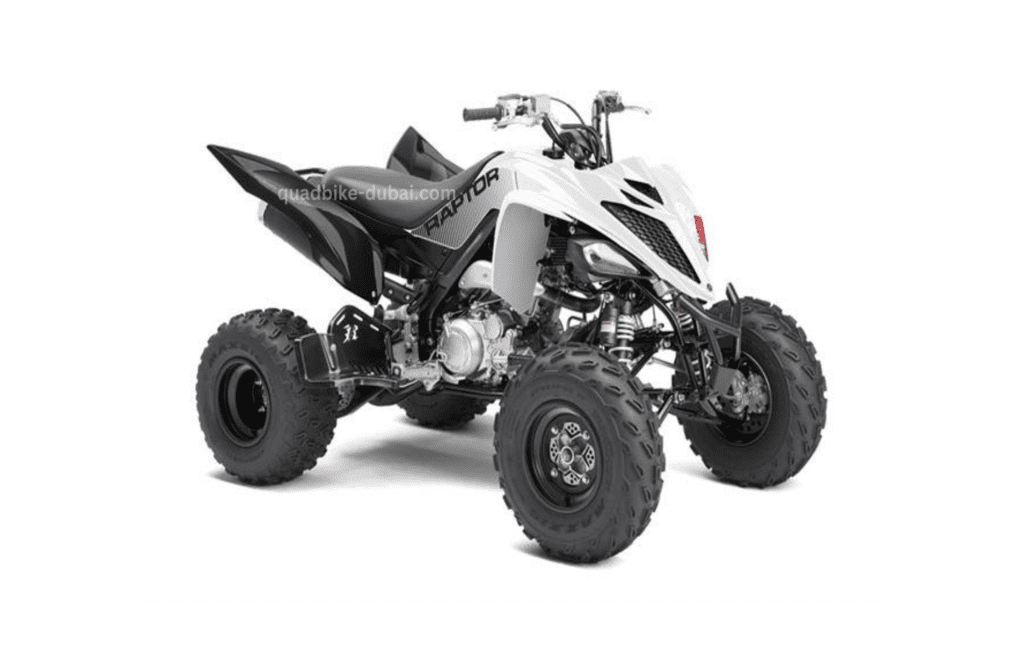 Open Desert YAMAHA Raptor Dubai
Duration
New Price
Old Price
30 Minutes
500 AED | 140 USD
700 AED
1 Hour
700 AED | 200 USD
1000 AED
2 Hours
1200 AED | 340 USD
1750 AED
Quad Bike Rental Dubai Price List
Double Seat Quad Bike Rental Dubai Price
Holidays Discount for Desert Quad Biking Dubai
Looking for an incredible Dubai holiday experience with a double-seat quad biking adventure? Look no further! Our Dubai Holidays Discount Package offers an unbeatable deal for those seeking thrilling desert exploration. Contact us on WhatsApp to get special discounts on our Desert Quad Biking packages.
This package includes a range of exciting activities, with the highlight being double-seat quad biking through the mesmerizing Dubai desert. You and your companion can conquer the dunes and soak in the breathtaking landscape.
This discounted package is designed to make your Dubai vacation unforgettable without breaking the bank. Don't miss this opportunity to create lasting memories while enjoying the best of the desert and city. Book now and prepare for an adventure packed, budget friendly holiday in Dubai!
Quad Biking Dubai Desert Packages
30 Minutes Quad Biking Dubai Desert

For thrill seekers, we provide the flexibility to rent our double seat quad bike for a 30 minute ride. This option is perfect if you're short on time but still want to experience the exhilaration of quad-biking through the scenic desert landscape. In just half an hour, you can navigate the rugged terrain. Also, feel the rush of the wind against your skin, and immerse yourself in the beauty of the desert. Additionally, our 30 minute quad biking experience offers an exciting and convenient way to make the most of your limited time while enjoying the sheer excitement of the desert.
1 Hour Quad Biking Dubai Desert

Are you looking for an exciting one hour quad biking ride in the Dubai desert? No worries! We're here to offer. You'll ride powerful quad bikes and explore the desert's unique landscapes, from rugged terrain to rolling sand dunes. Additionally, our experienced and professional guides will keep you safe. They will also share interesting facts about the desert's nature and culture. It's perfect for anyone who wants an unforgettable outdoor adventure and the thrill of riding a quad bike in the desert. So what are you waiting for? Pack your bags now and book your exciting quad biking tour in advance.
2 Hours Quad Biking Dubai Desert

A 2 hour quad biking adventure in the Dubai desert offers plenty of time to enjoy this beautiful place. You'll get to ride strong and well-maintained double quad bikes and explore the vast sand dunes and rugged terrain. It's also a great way for couples to have a memorable experience together. We take your safety seriously and provide all the necessary safety gear to ensure a fun and secure adventure. Come and create unforgettable memories in the desert with us.
4 Hours Quad Biking Dubai Desert

Explore the Dubai desert like never before with our extensive 4-hour quad biking adventure. This extended journey provides you a lot of time to immerse yourself in the mesmerizing beauty of the desert landscape. Accompanied by our experienced guides, you'll not only enjoy the thrill of quad biking but also gain insights into the desert's unique ecology and cultural significance. Moreover, this 4-hour quad biking experience is perfect for those seeking a more profound connection with the desert, making it an unforgettable outdoor adventure.
In-Circle Double Seat Quad Biking Dubai
We offer a variety of quad biking activities including in-circle double seat quad biking in Dubai. If you're visiting Dubai for the first time then you must experience this amazing activity. Additionally, an area of 600 square meters has been set aside for this activity. This is most likely the place where participants can ride their quad bikes on a circular path. To ensure safety and organization, the circle might be chalked out. By doing this, participants are guaranteed to remain in the defined area. Moreover, take advantage of the in-circle double-seat quad riding experience without venturing into other places or potential dangers.
This is appropriate for people who want to independently explore the desert. Since the path is totally secure, children can also participate in circle quad biking. Before handing you the quad bike, our experienced tour guides also provide safety gear and instructions. 
The engine capacity of these quad bikes typically ranges from 220CC to 250CC, which is suitable for off-road desert adventures. This engine size provides enough power to navigate the sand dunes and have an exciting experience.
The option to rent these double-seat quad bikes for different durations, such as 30 minutes, 1 hour, or 2 hours, allows visitors to choose a duration that suits their preferences and schedules. Shorter durations may be ideal for those looking for a quick adventure, while longer durations provide more time to explore and enjoy the desert surroundings.
Open Desert Double Seat Quad biking Dubai
Double seat quad biking Dubai offers an adventurous way to explore the open desert Dubai. These are four wheel specialized bikes designed for couples. Book double seat quad biking now to experience the awe-inspiring desert landscape and create unforgettable memories with a partner or friend, all while enjoying the thrill of off-road adventure.
In Dubai, when you go double-seat quad biking in the big, beautiful red desert dunes, it's a truly special adventure. The desert in the UAE is famous for its red dunes, and they make a stunning backdrop for your ride. What's cool is that lots of other people ride quad bikes here too, so you'll have company on your journey. Moreover, it's like sharing a fun and exciting adventure with new friends in this amazing desert playground.
We provide flexibility in quad biking durations to suit our customers' preferences. You can choose from a range of options, starting from 30 minutes and going up to two hours. Additionally, we offer flexible booking times, allowing you to reserve your ride anytime between 6 a.m. and 6 p.m. Our team includes experienced trainers who will provide guidance before you begin your quad biking adventure. Your safety is important to us, so we offer protective gear like helmets, gloves, and goggles to ensure a secure and enjoyable experience.
Quad Biking Tour Dubai Include
We offer the following perks at Quad Biking Dubai tour:
1. Double Seat Quad Bike
Double seat quad bike is a four wheel vehicle that features a sturdy design and robust engines, ranging from 220CC to 250CC. These bikes are designed for off-road adventures. It offers an exciting way for two people to explore the great outdoors, whether it's on rugged trails, in desert dunes, or across open terrain.
On a double seat quad bike, you and a friend may embark on an enjoyable journey. It is comparable to traveling together in a potent off-road vehicle. Whether you prefer a thrilling, fast ride or a more relaxed one, these bikes are ideal for friends, couples, or family members to enjoy a fun trip while taking in the gorgeous scenery of your chosen location.
2. Automatic Gear
Customers from all over the world choose our double quad biking services because we put their satisfaction and safety first. Our quad bikes have automatic gears, making them easy to ride for both beginners and experienced riders.
In quad bikes with automatic gear systems, the bike itself changes gears as needed without the driver having to do it manually. This makes driving easier. Because of this simplicity and convenience, automatic gear systems have become very popular in quad bikes.
3. Two Off-Road Helmets
A double seat quad biking allows two members to take a ride simultaneously we offer 2 off-road helmets to keep your head secure. These helmets are designed to protect your head from potential impacts and provide the necessary safety gear to make your quad biking experience safe and enjoyable.
Our helmets provide safety and peace of mind whether you're navigating rough terrain or tackling difficult trails, allowing you to concentrate on the thrill of the ride. Your safety is our top concern, and these off-road helmets are a crucial component of our dedication to a risk free and enjoyable adventure.
4. Goggles
For the safety of your eyes, we offer goggles. This is part of our essential gear for your adventure. When you're out having fun in the dirt, on your quad bike, or doing any outdoor activity, our goggles keep your eyes safe. Additionally, these goggles are strong and keep things like dust and dirt away from your eyes. They also make sure you can see well, and they're comfortable to wear. So, when you're having a great time outside, you don't need to worry about hurting your eyes. Trust our goggles to keep you safe while you have an exciting adventure.
5. Gloves
We understand that safety is key when you're out on your exciting adventures, and that's why we offer gloves to protect your hands. It is specially designed to keep your hands safe from any potential harm. Whether you're gripping the handlebars of your quad bike, exploring rugged terrain, or engaging in any outdoor activity, our gloves provide the necessary protection.
These gloves are made from high-quality materials. Moreover, our gloves offer durability, comfort, and a firm grip. They protect your hands from injuries as well as cuts. It ensures that you can fully enjoy your outdoor experience without worrying about your hand safety.
6. Professional & Trained Experienced Tour Guides
At our service, we take great pride in our professional and highly trained tour guides. Our team consists of professional tour guides that provide complete guidance to riders. They are well-experienced and dedicated to making your journey amazing as well as enjoyable.
They will not only navigate the routes with skill but also share their insights and stories, enhancing your understanding and appreciation of the surroundings. Moreover, with our professional tour guides by your side, you can embark on your adventure with confidence. You'll know that you are in capable hands. Further, every moment will be filled with wonder and enjoyment.
7. Mineral Water
Along with the other safety equipment we provide mineral water bottles to keep you and your partner hydrated. If you're riding during the daytime, the sun can be quite intense, making it essential to have access to refreshing water. Hydration is key to enjoying your outdoor experience, and our mineral water ensures you can quench your thirst and stay energized throughout your journey. This will also be the part of your adventure.
Quad Biking Tour Dubai Exclude
1. Camel Ride
Experience the charm of a traditional camel ride during your desert adventure with us (available at an additional charge). Our camel rides offer a unique opportunity to connect with the rich heritage of the Dubai desert. You'll have expert guides to help you as you sit on these impressive camels and enjoy the peaceful desert views.
You can also avail of our camel riding service with double seat quad biking in the Dubai desert. But keep in mind we charge additional cost for this service. Riding a camel allows you to immerse yourself in the rich desert culture and experience the serene beauty of the surroundings at a slower pace. If you're looking to make your desert adventure even more memorable, don't miss the chance to try out our camel riding service, which is available at an extra fee.
2. Dune Bashing
Dune bashing is an exhilarating activity that combines speed and adventure as you tackle the ups and downs of the dunes. Hold on tight as you experience the adrenaline rush and take in the stunning desert scenery. If you're seeking an extra dose of excitement during your desert adventure, don't miss the chance to add dune bashing to your trip. But it's important to note that there is an additional charges for dune bashing activity.
Experience the heart-pounding thrill of dune bashing as an optional add-on to your desert adventure. Our skilled drivers will take you on a thrilling ride through the desert dunes in a 4×4 vehicle, maneuvering through the sandy terrain with skill and precision.
3. Quad Biking Photography
Another exciting perk that we offer while quad biking is quad biking photography, available for an additional charge. We understand that your desert adventure is full of unforgettable moments, and our professional photographers are there to capture every thrilling second.
Additionally, our skilled photographers are experts at framing the perfect shots amidst stunning desert landscapes. They'll follow you on your quad biking journey, capturing your exhilarating ride, the beautiful scenery, and the joy on your face. Whether you're riding solo or with friends and family, our photographers will ensure that your desert memories are preserved in high quality and memorable photographs.
So, don't miss the opportunity to add this service to your quad biking experience, allowing you to take home lasting memories of your thrilling desert adventure.
4. Falcon Picture

Enhance your desert adventure with the opportunity to capture a mesmerizing moment with a majestic falcon, available for an additional charge. Falcons are a symbol of grace and power in the UAE's culture, and having your picture taken with one is a unique and unforgettable experience.
Our trained falcon handlers will introduce you to these magnificent birds of prey, allowing you to get up close and personal with them. Moreover, you'll have the chance to hold the falcon on your arm and pose for a remarkable photo that encapsulates the beauty and heritage of the desert.
This falcon picture experience is a fantastic way to connect with local traditions and create a one-of-a-kind memory during your desert adventure. So, if you want to make your visit to the desert even more special, consider adding this service and take home a truly remarkable souvenir of your time in Dubai.
5. Horse Riding

Discover the beauty of the desert from a different perspective with our optional horse riding experience. It is available at an additional charge. Our gentle and well-trained horses are perfect for riders of all levels. Additionally, guided by experienced handlers, you'll embark on a serene journey through the desert landscapes. Feel the rhythm of your horse's gentle gait as you explore the tranquil dunes and immerse yourself in the peaceful surroundings.
Horse riding is a wonderful way to connect with the desert's natural beauty and experience the tranquility of the Arabian sands. It's an opportunity to create lasting memories and embrace the rich equestrian heritage of the region. If you're looking to add a touch of elegance and a different pace to your desert adventure, consider opting for horse riding.
Dubai is an exciting city in the United Arab Emirates where a variety of attractions and activities are available for visitors. Let's discuss some of the top things to do in Dubai. Visit the Burj Khalifa which is the tallest building in the world, and take in the expansive views from its observation decks. To learn about the history of the city, you can visit historical sites such as the Al Fahidi Historic District, the Dubai Museum, and the Al Bastakiya area. Moreover, you can also visit theme parks like Motion Gate and Bollywood Parks to enjoy exhilarating rides and shows.
1. Desert Quad Biking Dubai Family and Couples

Quad biking is not just for thrill seekers in the desert of Dubai. Families and couples who wish to bond and go on an adventure in the middle of the Dubai desert could take advantage of this incredible opportunity. These Dubai deserts act as a perfect playground for quad biking lovers with its enormous stretch of golden sand dunes and distinctive desert terrain.
Quad biking is a delightful option for families, ensuring a fun and safe experience for both parents and kids. Couples can enjoy the thrill of riding over the captivating desert landscape while making lifelong memories. Don't miss out on a truly memorable experience; book your quad-biking trip in the Dubai desert with us right now!
2. Desert Safari Dubai with Double Seat Quad Biking

We also offer double seat quad biking on desert safari Dubai. It is an unforgettable trip that blends the exhilaration of off-road quad biking with the allure of the Arabian Desert. Couples, and families with friends will both enjoy this special opportunity to explore the captivating desert environment together.
If you avail of our pick and drop service, our driver will pick you up from your residence and then drop you at the booked location. After trying out activities like camel riding, sandboarding, and henna painting, you'll head for the double-seat quad bikes. You can travel the enormous, rolling sand dunes while enjoying the spectacular desert panoramas with the help of our professionals. A fantastic mood is created during the drive, which is frequently punctuated with breaks to take in the magnificent sunsets. Then our driver will drop you back at your residence.
3. Desert Camel Tour with Thrilling Adventure Quad Biking Riding Dubai

When you combine a thrilling adventure quad bike ride with a desert camel tour, you may have the best of both worlds in Dubai. The thrill of off-road riding is combined with a taste of traditional Arabian culture on this extraordinary adventure.        
Your journey starts with a leisurely camel ride across the pristine desert, giving you the chance to observe the dunes' serene beauty and get to know the area's history. The next step is an exhilarating quad-biking trip. Additionally, this dual experience is a great option for people looking for a well-rounded desert trip because it caters to both culture fans and adventure seekers. This Dubai tour has something for everyone, whether you prefer the tranquility of camel riding or the adrenaline of a quad bike.
Why Choose Us for Desert Quad Bike Rental Dubai
By booking with Quad Bike Dubai you not only get the best and quality service but you can also enjoy the following perks. 
Quality Service
We always value our customer's safety and satisfaction. So, we offer top-notch, well-maintained quad bikes and comprehensive safety gear to ensure your adventure is both exciting and secure.
Well Trained & Expert Guides
Our experienced guides know the Dubai desert like the back of their hand. They don't just lead you; they share insights about the desert's unique ecosystems, history, and culture, making your experience educational and enriching.
Flexible Durations
We are also renowned for this feature. Whether you have 30 minutes or 4 hours to spare, we offer flexible rental durations, so you can customize your desert adventure to fit your schedule and preferences.
Protection
Your well-being is our top priority. We provide thorough safety briefings, reliable equipment, and experienced guides to ensure you're in safe hands throughout your journey.
Competitive Prices
Quality doesn't have to come at a high cost. We offer competitive pricing to make your desert quad bike adventure an accessible and affordable experience.
When you choose Quad Bike Dubai, you're not just renting a quad bike; you're investing in a remarkable desert adventure filled with thrills, knowledge, and memories that will last a lifetime.
Desert Safari Dubai with ATVs
Morning Desert Safari Dubai with ATV Bike

Experience the breathtaking beauty of the Dubai desert with our Morning Desert Safari. It is enriched with the thrill of double-seat quad biking. The cool morning air provides the perfect setting for a serene journey through the tranquil landscapes. Double seat quad biking allows you to share this adventure with a companion, making it an even more enjoyable and shared experience. Moreover, this adventure promises a perfect start to your day. We've got you covered from sunrise to sunset! Our service runs from 6:00 AM to 6:00 PM, providing you with the flexibility to choose a time that best fits your needs.
When you book your Morning Desert Safari with Double Seat Quad Biking for the morning session, we'll pick you up at 7:00 a.m. right from your doorstep, whether you're staying in a hotel or at your home. This punctual and reliable service ensures you don't have to worry about navigating the unfamiliar desert terrain or finding transportation to the starting point. After your action-packed adventure exploring the desert on your quad bike and soaking in the natural beauty and thrills, our team will drop you back safely to your residence at 12:00 pm.
Evening Desert Safari Dubai with ATV Bike

The Evening Desert Safari with Double Seat Quad Biking is a captivating journey into the heart of the Arabian Desert, promising adventure, natural beauty, and cultural immersion. As the sun begins its descent, the desert comes alive with a different kind of magic, and this experience captures it all.
This exciting journey typically starts with our convenient pick and drop service. If you book our evening quad biking adventure, our driver will pick you up at 3:00 p.m. and drop you back at 9:00 p.m. This allows a lot of time to enjoy the desert.
Double seat quad biking adds a layer of excitement and companionship to this experience. Moreover, you can share the thrill of navigating the mesmerizing sand dunes with a friend or family member. Guided by experts, you'll explore the intricate desert terrain, conquer dunes, and enjoy the pure adrenaline rush of quad biking against the backdrop of the setting sun.
Overnight Desert Safari Dubai with ATV Bike
The Overnight Desert Safari with Double Seat Quad Biking is the ultimate desert adventure, offering a unique blend of excitement, natural beauty, and an authentic Bedouin experience under the starlit Arabian sky. Moreover, this extended safari promises an unforgettable 24-hour immersion in the Dubai desert. We'll pick you up between 2:00 PM and 3:00 PM if you choose our Overnight Desert Safari with Quad Biking.
You'll enjoy a stunning desert evening as the sun sets. This includes a delectable barbecue dinner and customary entertainment that will fully engage you with the rich culture of the desert. Additionally, the adventure continues as you spend the night in luxurious accommodations in the desert beneath a starry sky, making lasting impressions. You'll also have the chance to ride the double seat quad bike all night.
The next morning, after enjoying a peaceful desert sunrise, our driver will make sure you have a safe and comfortable journey home. Our Overnight Desert Safari with Quad Biking is the perfect option if you're looking for the thrill of quad biking. It also provides the tranquility of spending the night in the desert.
Quad Biking Dubai Best Desert Sports Activity
Quad biking has emerged as one of the most thrilling and popular desert sports activities in Dubai, capturing the hearts of adventure seekers from around the world. This adrenaline-pumping adventure offers an extraordinary experience in the heart of the Dubai desert.
In Dubai, the big sandy hills and always-changing desert are like a giant playground for quad biking. People ride special powerful bikes that can handle the tricky desert ground. It doesn't matter if you've never tried it before or if you're really good at it; everyone can experience it.
You get to explore the beautiful sand dunes, go up and down the steep sandy hills, and zoom around this magical place. What makes it even more fun is that these bikes have two seats. So, you can share the excitement with a friend or someone from your family. It's like going on an adventure together, and that makes it even more enjoyable. All in all, quad biking in Dubai is a fantastic way to have an amazing time in the desert, and it's something you'll remember for a long, long time.
Best Timing for Quad Biking Dubai
The optimum time to go quad biking mostly depends on your preferences and the kind of experience you want. There are three prime times for quad biking in Dubai:
Morning Sunrise Timing Quad Biking Dubai
If you're an early riser or simply love the idea of starting your day with an adventure, the morning quad biking tour is tailor-made for you. This choice offers a range of benefits that make it a fantastic option for desert exploration.
First and foremost, the morning desert landscape is characterized by cooler temperatures. The sun is just beginning to rise, casting a soft, golden light on the desert, creating a serene and picturesque environment. Moreover, the mild climate makes it comfortable for outdoor activities, and you'll appreciate the gentle warmth of the morning sun.
One of the unique advantages of morning quad biking is the opportunity to witness the desert's wildlife at its most active. Moreover, it's a chance to connect with the natural rhythms of this unique environment.
And if you opt for our pick and drop service, your morning will start off conveniently. Our driver will pick you up from your residence or hotel in the early hours, ensuring you're all set for your desert adventure. Then, after the ride, you'll be safely transported back to your accommodation. It's a worry-free and complete experience that lets you make the most of your morning quad biking adventure in Dubai.
Sunset Timing Quad Biking Dubai
Riding a quad bike in the evening when the sun sets is like a magical adventure. As the sun gets lower, the whole desert looks different. The light from the setting sun makes the sand dunes look golden and beautiful. Moreover, the colors in the sky change, creating a sense of wonder.
It's not too hot in the evening, which makes riding the quad bike really comfortable, especially during the warmer months in Dubai. Further, you can have fun without feeling too hot and sweaty.
After the quad bike ride, you usually get to go to a special camp in the desert. There, you can relax, enjoy a tasty barbecue dinner, and take part in fun activities like getting henna tattoos, listening to live music, and watching belly dancing.
Winter Quad Biking Dubai
Opting for a winter afternoon quad biking adventure in Dubai presents a delightful and comfortable experience, particularly during the milder months. This timing offers several advantages that make it a preferred choice for those looking to explore the desert during the winter season.
One really good thing about going quad biking in the winter afternoon in Dubai is the weather. You see, in the summer, Dubai can get incredibly hot. But in the winter, it's much nicer. Afternoons are pleasantly warm, which means you won't feel too hot or uncomfortable while you're out in the desert. You can have all the fun without the worry of the scorching heat that you'd get during the summer. So, it's a great time to have an adventure in the desert without feeling too hot and sweaty.
Another amazing thing about winter afternoons is they can last longer and be more exciting. You see, the morning and evening rides are usually quite short. But in the afternoon, you can take your time and explore the desert at a slower, more relaxed pace. This extra time means you can go to more places and enjoy the adventure more. It's like having more time to savor all the fun and beauty of the desert at your own speed.
Quad Biking Dubai Tour Availability
We offer our quad biking adventures in Dubai daily, allowing visitors the flexibility to choose a time that suits their schedule. Whether you're a morning person, prefer the enchantment of a desert sunset, or fancy the milder winter afternoons, there's an option for everyone.
Our morning tours usually kick off early, around sunrise, offering a cooler and tranquil start to the day. It's an excellent choice for those who want to enjoy the serene desert and the fresh morning air.
Additionally, evening tours are designed to coincide with the breathtaking desert sunset, evening tours begin later in the day, creating a magical atmosphere as the sun sets. Moreover, our winter afternoon tours provide a comfortable and extended double-seat quad biking experience during the cooler months, with the pleasant winter afternoon weather enhancing the adventure.
The daily availability and varied timing options ensure that quad biking enthusiasts can find the perfect spot to embark on their desert adventure, making it a convenient and accessible activity for all.
Quad Biking Dubai Tour Timing
The timing for our quad biking in Dubai is generally set from 7:00 AM to 6:00 PM, providing a wide window of opportunity for families to enjoy this thrilling adventure. It's worth noting that these timings may vary depending on the season, weather conditions, and other factors, but any changes will be communicated to you at the time of booking.
Starting the day at 7:00 AM allows families to beat the heat and enjoy the cooler morning temperatures in the desert. This early timing also provides a great opportunity to witness the desert landscape as it comes to life with the soft morning light. Conversely, those who prefer a more leisurely experience can opt for afternoon rides, taking in the stunning desert sunset.
Quad Biking Tour Availability
We offer ATVs (Quad biking) daily, ensuring that families have the flexibility to plan their desert safari experience at their convenience. Whether you're visiting Dubai during the week or on the weekend, you can count on the availability of this exciting activity every day.
This daily availability means that you can easily incorporate quad biking into your travel itinerary, allowing you to explore the mesmerizing desert landscape and create lasting memories with your family on any day that suits you. Moreover, it's a fantastic way to add a dose of adventure and cultural exploration to your Dubai visit while ensuring that you can enjoy the experience whenever it fits your schedule.
Quad Biking Dubai Location
Our quad biking adventures take place in the captivating Al Lahbab Desert, specifically amidst the iconic Red Dunes. It is located just outside Dubai. The Al Lahbab Desert is renowned for its stunning red sand dunes that stretch as far as the eye can see. Moreover, these unique dunes offer a picturesque and thrilling terrain for quad biking.
It is a captivating natural wonder in the vicinity of Dubai. These distinctive red dunes, characterized by their striking color and varying heights, create an ideal playground for quad-biking enthusiasts.
Additionally, it is located away from the city's hustle and bustle, the Al Lahbab Desert provides a serene and picturesque backdrop for the adventure. As you rev up your quad bike, you'll have the opportunity to explore these enchanting dunes, navigate the sandy slopes, and immerse yourself in the unique beauty of the desert landscape. This makes it an unforgettable experience in the heart of this remarkable natural setting.
The Red Dunes are famous for their fiery red-orange hues, especially during sunrise and sunset. They create a breathtaking backdrop for your desert adventure. Moreover, navigating these dunes on a quad bike provides an exhilarating experience. The desert's serene beauty will leave you in awe.
This location is carefully chosen to provide you with the best possible desert quad biking experience in Dubai. This ensures a perfect blend of natural splendor as well as adventure.
Quad Biking Dubai Booking Information
Quad Biking Tour Payment Method
We offer you the flexibility to choose your preferred payment method for added convenience. When our driver arrives for your pickup, you can opt for the ease of paying in cash. Additionally, we provide the option for secure card and online payments, ensuring a hassle-free transaction process.
Please note that while we accept various payment methods, including cash, bank transfers, and ATM cards, there is a nominal 5% service charge applied to online payments made via bank transfers and ATM cards. We believe in transparency and want to ensure that you have a clear understanding of the payment options available to you, allowing you to select the one that best suits your preferences and needs.
Dubai Quad Biking Tour Booking
Experience all of our featured tours at exclusive discounted rates, complemented by our exceptional 24/7 customer service. Contacting us is a breeze – you can reach out via WhatsApp or email using the provided links on our "Contact Us" page. Our convenient pick-up and drop-off services are available in Dubai, Sharjah, and Ajman for your added ease.
To get started, simply complete the user-friendly form on our website, or reach out to us via the email address and WhatsApp number thoughtfully provided on our page. We're here to make your adventure in Dubai's desert as smooth and memorable as possible.
Quad Bike Tour Booking Requirement:
To ensure a seamless booking confirmation process, we kindly request the following details:
Your full name
Name of your hotel for pick-up and drop-off
Your UAE-based mobile number.
If you don't have a local UAE mobile number, you can provide us with your frequently used WhatsApp number. In the rare event that neither of these options is available, you can share your hotel room number, allowing our driver to contact you via your hotel's reception. Staying connected is crucial. It enables us to keep you informed about any tour adjustments due to unforeseen circumstances or weather changes. Moreover, your safety and satisfaction are our top priorities, and open communication ensures a memorable and worry-free experience.
Quad Biking Tour Pick and Drop Service
For added convenience, we offer a pick-up and drop-off service for our quad biking Dubai adventures. This service is available upon request, providing you with flexibility in planning your desert safari experience.
If you choose to use our pick-up and drop-off service, our designated transportation will pick you and your family up from your preferred location in Dubai such as a hotel, and take you to the quad biking site. After the adventure, you will be safely transported back to your hotel.
This service eliminates the need to worry about transportation logistics, ensuring a seamless and hassle-free experience for you and your family. Simply let us know your pick-up location when making your booking, and we'll make the necessary arrangements to ensure you have a smooth and enjoyable quad biking adventure in the Dubai desert.
Quad Biking Dubai Tour Additional information
1. Safety
We always prioritize your safety. That's why we provide a range of safety measures to guarantee a secure adventure. Our safety precautions include equipping your child with a safety helmet and goggles, shielding them from potential hazards, and ensuring their eyes and head are safeguarded throughout the ride. Additionally, our dedicated team of instructors is highly trained to ensure that our guest are well-prepared and supervised throughout the experience.
We take pride in our safety-first approach, enabling your child to revel in the thrill of quad biking in Dubai's desert while you have peace of mind, knowing that their safety is our top priority.
2. Photography
Capture the magic of your quad biking adventure in Dubai with our photography services. Our skilled photographers are experts at preserving those special moments as your child embarks on an unforgettable desert journey.
Our photographers capture cherished memories, from action shots of your child conquering sand dunes to candid moments of their excitement. Let us handle the photography, so you can focus on enjoying the adventure alongside your child. At the end of the experience, you'll have the option to purchase these professionally captured memories, allowing you to relive the joy and thrill of the quad biking adventure for years to come. Leave no memory behind – trust us to capture them all.
3. Clothes and Shoes
Choosing the right clothes and shoes is essential to ensure comfort and safety during your desert experience.
Clothes: We recommend wearing lightweight, breathable clothing suitable for outdoor activities. Loose-fitting attire will keep you comfortable in the desert's warm climate. Long sleeves and long pants are advisable to protect against the sun and potential contact with sand. Further, don't forget to apply sunscreen to exposed skin for added protection.
Shoes: Opt for closed-toe, comfortable shoes with good traction. Sneakers or sports shoes are ideal as they provide stability and support for quad biking. Avoid open-toed shoes, sandals, or flip-flops, which may not offer adequate protection and support in the desert terrain.
4. Not Recommended
There are certain behaviors and items we do not recommend
A. Inadequate Clothing: It is not recommended to wear clothing that is not suitable for the desert environment, such as heavy or restrictive attire. Because it can lead to discomfort and limit mobility during the adventure.
B. Valuables: It's best not to bring valuable items like expensive jewelry, large sums of money, or valuable electronics. Moreover, they may be subject to damage in the desert environment.
C. Excessive Baggage: We prohibit the bringing of large bags, suitcases, or excessive baggage, as they can be cumbersome and may not find accommodation during the quad biking experience.
D. High Heels or Open-Toed Shoes: Wearing high heels or open-toed shoes like sandals or flip-flops is not advisable for safety reasons. They may not provide adequate protection and support on desert terrain.
5. Large Group
For larger groups seeking a thrilling quad biking experience in Dubai, we offer special discounts and packages tailored to fulfill your needs. We understand that traveling with a large group, whether it's friends, family, or colleagues, is a fantastic way to create shared memories and enjoy unique adventures together.
We design group discounts to make the quad biking adventure even more accessible and affordable for everyone. Whether you're planning a family reunion, a corporate team-building outing, or a celebration with friends, our team can assist you in customizing your quad biking experience to suit your group's size and preferences.
By choosing our group packages, you not only enjoy the excitement of quad biking but also benefit from cost savings, ensuring that everyone in your group can participate and have an unforgettable time exploring the beautiful desert landscapes of Dubai.
6. What to bring for ATVs Tour
 Bring Emirates ID if you are UAE Resident, and Passport if you are on Tourist Visa.
Comfortable shoes
Sunglasses
Sun hat
Camera
To ensure a comfortable and enjoyable quad biking experience in Dubai, here is a list of items you should consider bringing with you:
Identification: For UAE residents, please remember to bring your Emirates ID. If you're visiting on a tourist visa, have your passport handy for identification purposes.
Comfortable Shoes: Wear comfortable and closed-toe shoes that provide good support for your feet during the quad biking adventure.
Sunglasses: Protect your eyes from the desert sun and blowing sand by wearing sunglasses with UV protection.
Sun Hat: A wide-brimmed hat can provide additional protection from the sun and keep you cool during the desert adventure.
Camera: Don't forget your camera or smartphone to capture the breathtaking desert landscapes and enjoy the quad biking experience.
7. Not allowed
For the safety and comfort of all participants in our quad biking adventures in Dubai, we have certain restrictions on what is not allowed during the experience:
Pets: For the well-being of your furry friends and the consideration of other participants, please avoid bringing pets to the quad biking site. The desert environment may not be suitable for animals. It's important to ensure a safe and enjoyable experience for all.
Luggage or Large Bags: Large bags and luggage are not permitted during the quad biking adventure. It's advisable to leave such items at your accommodation or arrange for secure storage if necessary. Moreover, this policy helps ensure the safety of participants and prevents any potential interference with the quad biking experience.
8. Steps to Reduce The Risks of Accidents and Injuries
To ensure the safety of our young riders during quad biking, we follow a set of crucial steps to reduce the risks of accidents and injuries:
Maintain Safe Speeds: Our instructors emphasize the importance of riding at safe and controlled speeds. Children are encouraged to follow speed guidelines to prevent accidents while still enjoying the thrill of the ride.
Wearing Safety Equipment: Every child is provided with essential safety equipment, including helmets and goggles. Moreover, we insist on their proper use to protect against potential injuries.
Be Attentive: Instructors stress the need for constant attentiveness. We teach you to maintain focus on the terrain, follow instructions, and stay aware of their surroundings
Caution around Dunes: Riding around sand dunes requires specific skills and caution. So, we provide guidance to children on how to navigate dunes safely to prevent mishaps.
9. Currency Accepted
We accept various currencies for your convenience when booking our quad biking Dubai trip. The accepted currencies include:
US Dollar (Dollar)
United Arab Emirates Dirham (AED)
Euro (Euro)
British Pound (Pound)
Saudi Riyal (Riyal)
This flexibility allows you to pay using your preferred currency, making the booking process more convenient for visitors from different parts of the world. Please note that exchange rates may apply when using currencies other than the United Arab Emirates Dirham (ASD). So it's a good idea to check with our booking service for the most up-to-date information on currency conversion and payment options.
Quad Biking Dubai Tour Cancellation Policy
Cancel up to 24 hours in advance to receive a full refund, except (transfer charges will apply).
Cancellation less than 24 hours in advance or no show will be 100% charged.
The refund amount will be credited back to the same card used for booking
In the event of poor weather conditions or other external factors out of our reasonable control, the activity/tour may be canceled at short notice, without any charges being applied to the guest. In such cases, the tour/activity can be re-scheduled or a full refund will be processed.
The refund might take 7 to 14 days to reflect in your account, depending on the bank's policy.