Kids Quad Biking Dubai Rental offers an exhilarating and family friendly adventure for young adventurers visiting the vibrant city. Dubai is a city with a mix of buildings and big deserts, making it a great place for kids to enjoy riding these fun ATVs bikes. A trip to Dubai is not just for the elders. People of all ages can enjoy and experience the same amount of excitement from it.
These quad bike rentals are made just for kids, so they're safe and easy to use. Kids will get the right-sized bikes for their age. They'll also be given helmets and special clothes to stay safe. Moreover, you can use our kid's quad services as well. So your children can also take pleasure in the red dune adventures.
Our kids quad biking dubai rental has a qualified team who will support you and set up all necessary instructions and security precautions. We are aware of your concern for the protection of your children, and we will never jeopardize it. Parents can rest assured that their children are in good hands as they zip across the sand dunes, experiencing a sense of freedom and adventure that's unique to the desert. These tours provide not only a thrilling experience but also an educational one, as kids can learn about the desert's unique ecosystem and the importance of preserving it. Moreover, we are the most reliable quad bike tour provider for children in Dubai.
Kids Quad Bike Rental Dubai
Our company provides an excellent package for a tourist who wants to be completely mesmerized. We are the most reliable providers of quad bike tours in Dubai. Buy an exciting Kids Quad Biking Dubai package that allows you to connect with nature. Quality services, affordable package deals, and worthwhile quad bike tours are all provided by Quad Bike Dubai to make your trip an unforgettable one. Additionally, the cost of renting a Dubai kids quad bike depends on several factors such as renting duration, the type of quad bike, and whether it includes a tour guide.
Kids Quad Bike Rental Dubai Price
Duration
New Price
Old Price
30 Minutes
90 AED
130 AED
1 Hour
150 AED
210 AED
2 Hours
230 AED
330 AED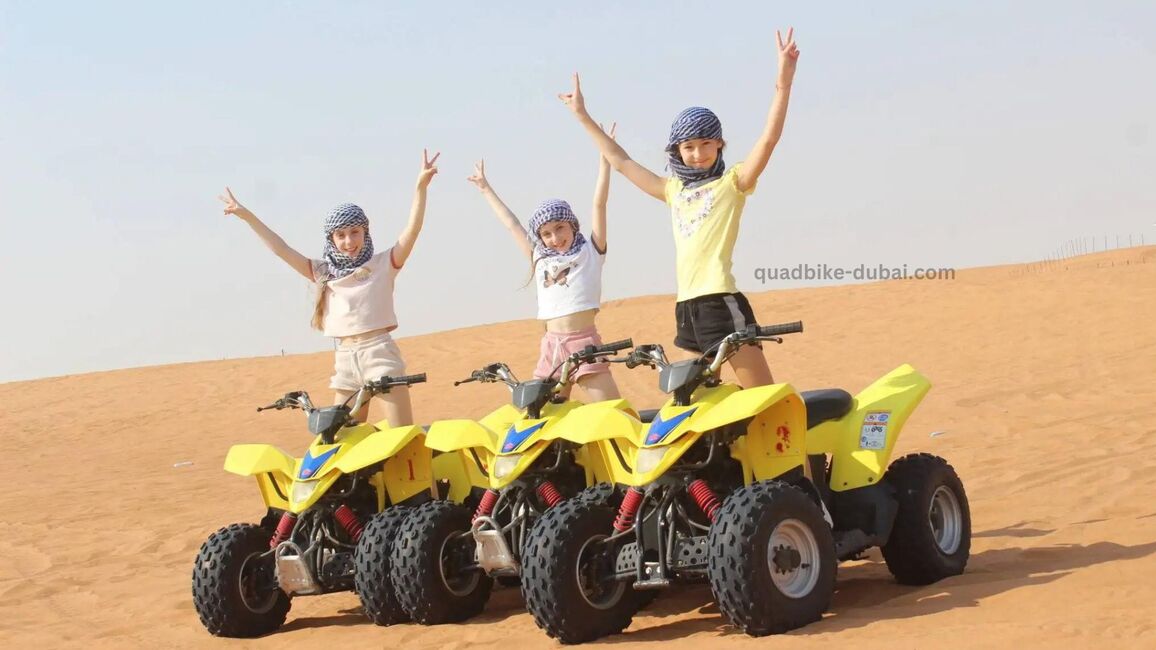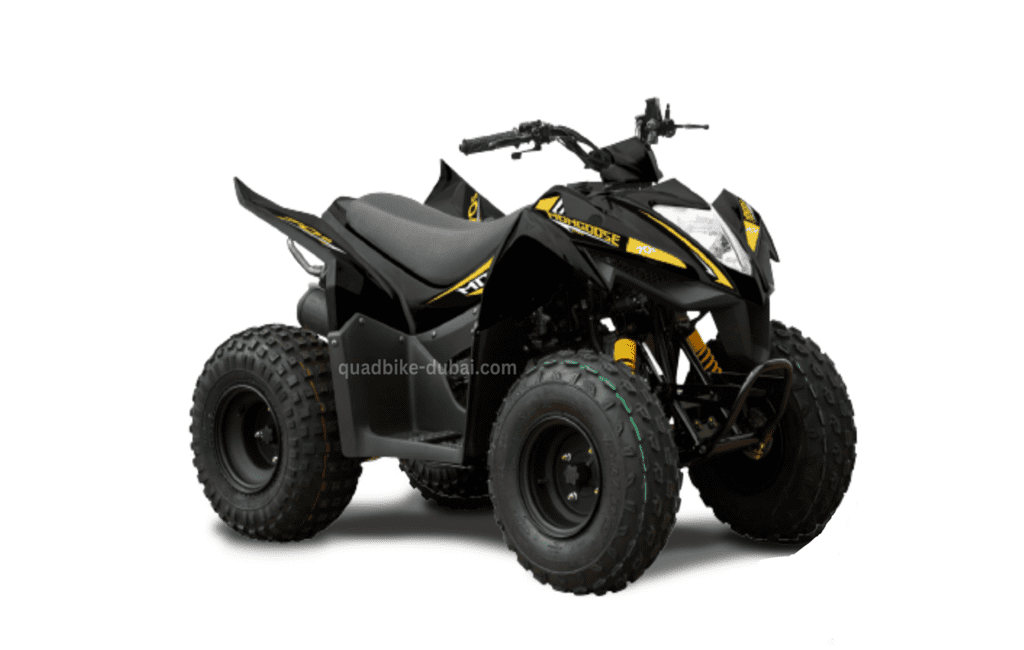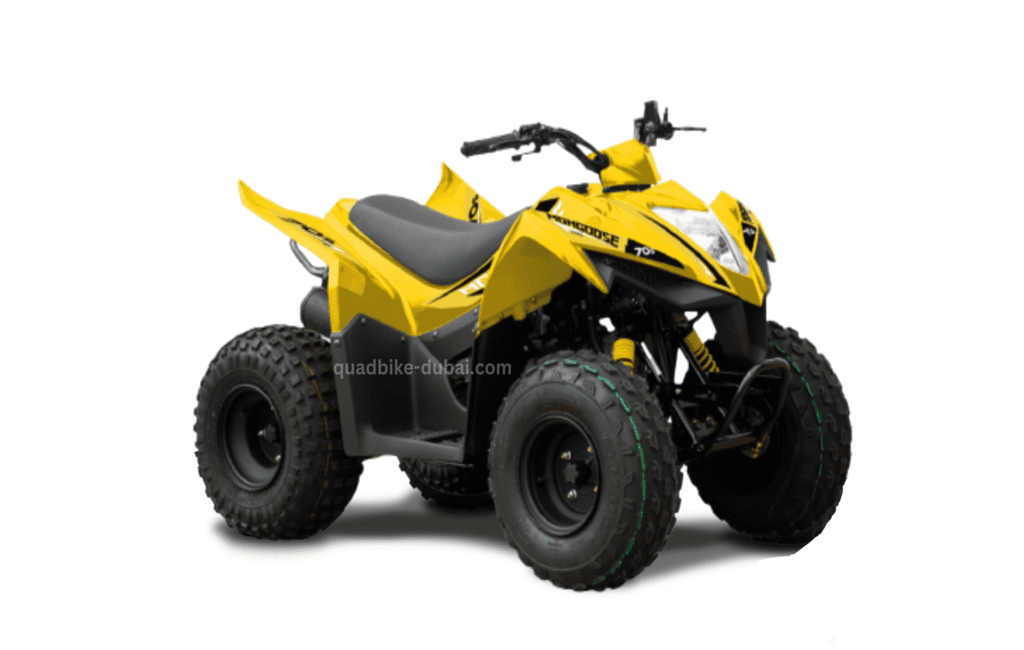 Kids Quad Biking Tour Includes
Single Seat Kid Quad Bike ​
A single-seat kid quad bike is designed specifically for one child to ride on. This indicates that the bike has only one seat. There is no additional passenger seat on a single-seat kid quad bike. In addition, kids quad biking dubai are typically smaller and less powerful than adult quad bikes. They are designed with safety in mind and are easier for children to handle. It is an amazing and unforgettable activity for your kids.
Children aged seven years and above can enjoy a thrilling 30-minute ride on a single-seat 90cc quad bike, priced at 90 AED (approximately 25 USD). These kid-friendly quad bike adventures take place in the captivating In-Circle Desert, offering young riders an exhilarating experience in a safe and controlled environment. The 90cc quad bikes are designed for kids' safety and ease of use, making it a perfect opportunity for children to explore the picturesque desert landscape while enjoying an age-appropriate outdoor adventure.
Automatic Gear
Children do not need to worry about the shifting of gears because kid's quad bike has automatic gears, making it easier for them to focus on steering and controlling the quad bike. Automatic gear transmission quad bikes are typically more user-friendly and suitable for beginners, including young riders who may not have experience with manual gear shifting. This feature enhances the safety as well as enjoyment of the quad biking experience for kids.
Off-Road Helmets
To ensure the children's safety we offer off-road helmets. These helmets are designed with safety in mind that provide full head coverage. They have additional features like a reinforced chin bar and a face shield to protect the rider's face and eyes from debris and impacts.
The special helmets used for off-road activities, like riding a quad bike, are made to keep the rider from getting too hot and uncomfortable. Moreover, they have tiny holes or openings that let air in, kind of like tiny windows. This way, when you're riding around in the hot desert or doing other tough activities, you won't get too sweaty and hot inside the helmet. Therefore, it helps you stay cool and comfy while having fun.
Goggles
We'll ensure your safety by offering goggles. In addition, we make sure that kids are safe when they go quad biking by giving them goggles to wear. Goggles are like special glasses that protect their eyes. When they ride the quad bike, the goggles keep dust, sand, and things from flying into their eyes. This way, their eyes stay safe and they can see clearly while having fun on the quad bike. Moreover, goggles are an important part of making sure kids have a safe and enjoyable experience.
Gloves
We take safety seriously, so when kids go quad biking, we give them gloves to wear. These gloves help protect their hands while they ride. They keep their hands safe from dirt, rocks, and anything else that might hurt them. Plus, the gloves give them a better grip on the handlebars of the quad bike. So they can steer and control it more easily. Safety is our top priority, and providing gloves is one of the ways. We make sure kids have a safe and enjoyable time while quad biking.
Professional Tour Guide
Quad Bike Dubai wants to make sure kids have a fantastic and safe time while quad biking. So we have professional and trained tour guides to help them. These guides are experts who know all about quad biking and the places we ride. Moreover, they show kids how to ride safely and have fun. They keep an eye on everything to make sure everyone is okay and having a great adventure. With our experienced tour guides, kids can enjoy ATVs with confidence, knowing they're in good hands. Further, safety and fun go hand in hand with our team of guides.
Mineral Water
To keep kids hydrated during their quad biking adventure, we provide mineral water. It's essential to stay fresh, especially when having active outdoor fun. The mineral water helps keep kids energized and ensures they have a comfortable and enjoyable experience while ATV riding. Safety and well-being are our priorities, and providing water is one of the ways we take care of our young riders. So, parents can rest assured that their children will stay refreshed and have a great time on their quad biking journey.
Camel Ride  (Additional Charge)
In addition to our thrilling kid quad biking adventures, we also offer the unique opportunity for kids to enjoy a camel ride as an optional add-on experience (additional charge applies). Riding a camel is a fantastic way for children to connect with the desert's rich heritage. You can experience the traditional mode of transport in this remarkable landscape.
Our camel rides are led by experienced handlers who ensure the safety and comfort of the young riders. Moreover, it's an unforgettable chance for kids to feel the gentle sway of these desert creatures as they traverse the sandy terrain, taking in the breathtaking desert views.
Parents can choose to include this camel ride as part of their children's quad biking adventure, adding a touch of cultural richness to their desert experience. It's an ideal opportunity for kids to create lasting memories while exploring the desert's beauty and history.
Dune Bashing (Additional Charge)
Quad Bike Dubai provides the exciting option of dune bashing, allowing visitors to experience the thrill of navigating the mesmerizing Dubai deserts. However, it's important to note that there is an additional charge associated with this exhilarating activity. Dune bashing involves riding in a powerful 4×4 vehicle, expertly driven by skilled guides, over the undulating sand dunes of Dubai's vast desert landscape.
The added cost for dune bashing covers the expenses related to the specialized vehicles, experienced drivers, and necessary permits, ensuring a safe and unforgettable adventure for participants. While the extra fee might increase the overall cost of your desert excursion, the adrenaline rush and breathtaking views of the desert make it a worthwhile investment for those seeking an extraordinary desert experience in Dubai.
Quad Biking Photography (Additional Charge)
We also offer a fantastic service of quad biking photography. While you're zipping across the stunning desert landscapes on your quad bike, a professional photographer will be on hand to capture those action-packed moments and scenic vistas.
However, it's important to note that this added convenience typically comes with an additional charge. The fee covers the cost of a skilled photographer equipped with high-quality equipment, ensuring that you get the best possible shots to commemorate your desert adventure.
You can keep the cool pictures taken during your quad biking in Dubai's deserts as special memories. Even though it costs extra money, it's usually worth it because these pictures capture the fun and beautiful moments of your desert adventure. So, if you want to remember your desert trip in a unique way, getting professional photos taken is a great idea!
Falcon Picture (Additional Charge)
For an extra special touch to your desert adventure, Quad Bike Dubai offers the opportunity to take pictures with a majestic falcon. Falcons are revered in Middle Eastern culture, and having a picture with one of these magnificent birds can be a memorable experience.
There is an additional charge for this service. The fee covers the cost of handling and caring for the falcon, as well as the expertise of a falcon handler who ensures a safe and enjoyable interaction.
Additionally, the resulting falcon picture will be a unique keepsake from your time in the desert, allowing you to capture the essence of this ancient and cherished tradition. While it adds to the overall cost of your desert adventure, the chance to get up close and personal with a falcon and take home a remarkable photo is often considered well worth the additional expense.
Horse Riding for Kid (Additional Charge)
We also offer the exciting option of horse riding for kids, allowing young adventurers to experience the thrill of riding a horse through the picturesque desert landscapes. This memorable activity can be an enriching experience for children, fostering a connection with nature and animals.
Additional charges are associated with this activity. The extra fee covers the cost of well-trained horses, experienced guides, and the necessary safety equipment to ensure a safe and enjoyable ride for the kids.
Although the additional fee may raise the overall cost of your desert trip, the pleasure and educational benefits that kids receive from horseback riding in the desert may make it a good investment for families seeking to create lasting memories in the stunning desert landscape.
Why Choose Us for Kids ATVs Rental Dubai
We are the leading and most experienced firm offering kids ATV rental in Dubai, and we are renowned for our top-notch offerings. We offer our customers a variety of trustworthy and reasonable vacation packages! Without any restrictions, you can go quad biking in the desert in Dubai. Over the sand dunes, our tour guide will direct you. He will also take your photograph from various perspectives to ensure that this quad biking experience is memorable.
Most people come to us to avail of our ATV services because we go above and beyond to provide the best experience to our customers. Let's have a look at some reasons why families choose us:
Safety First
Your child's safety is our top priority. We understand the unique needs of young riders, and all our quad bikes are equipped with features like speed limiters and safety modifications to ensure a secure adventure.
Variety of Packages
We believe in providing options that cater to all preferences and budgets. Our vacation packages are designed to offer both trustworthiness and affordability, making your family vacation memorable without breaking the bank.
Unparalleled Experience
We go above and beyond to provide the best experience for our customers. Our commitment to excellence shines through in every quad bike adventure we offer.
Desert Safari Dubai with Kids Quad Biking
Quad Bike Dubai offers an exciting opportunity for families to explore the desert safari experience with kids quad biking dubai. This adventure-packed activity allows parents and children to venture into the stunning desert landscape of Dubai together, creating unforgettable memories in the process.
Kid Friendly ATVs
Quad Bike Dubai provides specially designed quad bikes (ATVs) for children, ensuring that young riders can enjoy the thrill of off-road biking in a safe and controlled manner. These vehicles are age-appropriate, easy to handle, and equipped with safety gear like helmets and protective clothing.
Guided Desert Safari
Families can embark on a guided desert safari led by experienced instructors who prioritize safety and fun. The adventure takes you through the mesmerizing sand dunes of Dubai's desert, offering a unique and exhilarating experience for kids and adults alike.
Adventure & Bonding
Quad biking in the desert provides an excellent opportunity for families to bond while indulging in an adventure that combines the excitement of exploration with the serenity of the desert landscape. Moreover, it's a chance for kids to appreciate the beauty of nature and for parents to share in their children's sense of wonder.
Cultural Insights
Many desert safari tours also offer a glimpse into the region's rich cultural heritage. Families can savor traditional meals, watch cultural performances, and learn about the history and traditions of the desert-dwelling Bedouin people.
Kids Quad Biking Tour Dubai
Kids Quad Biking Dubai Timing
The timing for our kid quad biking in Dubai is generally set from 7:00 AM to 6:00 PM, providing a wide window of opportunity for families to enjoy this thrilling adventure. It's worth noting that these timings may vary depending on the season, weather conditions, and other factors, but any changes will be communicated to you at the time of booking.
Starting the day at 7:00 AM allows families to beat the heat and enjoy the cooler morning temperatures in the desert. This early timing also provides a great opportunity to witness the desert landscape as it comes to life with the soft morning light. Conversely, those who prefer a more leisurely experience can opt for afternoon rides, taking in the stunning desert sunset.
Kids Quad Biking Availability
We offer kid ATVs (Quad biking) daily, ensuring that families have the flexibility to plan their desert safari experience at their convenience. Whether you're visiting Dubai during the week or on the weekend, you can count on the availability of this exciting activity every day.
This daily availability means that you can easily incorporate kid quad biking into your travel itinerary, allowing you to explore the mesmerizing desert landscape and create lasting memories with your family on any day that suits you. Moreover, it's a fantastic way to add a dose of adventure and cultural exploration to your Dubai visit while ensuring that you can enjoy the experience whenever it fits your schedule.
Kid ATVs Tour Payment Method
We offer you the flexibility to choose your preferred payment method for added convenience. When our driver arrives for your pickup, you can opt for the ease of paying in cash. Additionally, we provide the option for secure card and online payments, ensuring a hassle-free transaction process.
Please note that while we accept various payment methods, including cash, bank transfers, and ATM cards, there is a nominal 5% service charge applied to online payments made via bank transfers and ATM cards. We believe in transparency and want to ensure that you have a clear understanding of the payment options available to you, allowing you to select the one that best suits your preferences and needs.
How to Book a Kids Quad Bike Tour?
Experience all of our featured tours at exclusive discounted rates, complemented by our exceptional 24/7 customer service. Contacting us is a breeze – you can reach out via WhatsApp or email using the provided links on our "Contact Us" page. Our convenient pick-up and drop-off services are available in Dubai, Sharjah, and Ajman for your added ease.
To get started, simply complete the user-friendly form on our website, or reach out to us via the email address and WhatsApp number thoughtfully provided on our page. We're here to make your adventure in Dubai's desert as smooth and memorable as possible.
Quad Bike Tour Booking Requirement:
To ensure a seamless booking confirmation process, we kindly request the following details:
Your full name
Name of your hotel for pick-up and drop-off
Your UAE-based mobile number.
If you don't have a local UAE mobile number, you can provide us with your frequently used WhatsApp number. In the rare event that neither of these options is available, you can share your hotel room number, allowing our driver to contact you via your hotel's reception. Staying connected is crucial. It enables us to keep you informed about any tour adjustments due to unforeseen circumstances or weather changes. Moreover, your safety and satisfaction are our top priorities, and open communication ensures a memorable and worry-free experience.
Pick and Drop Service for Kids ATVs Tour
For added convenience, we offer a pick-up and drop-off service for our kid quad biking Dubai adventures. This service is available upon request, providing you with flexibility in planning your desert safari experience.
If you choose to use our pick-up and drop-off service, our designated transportation will pick you and your family up from your preferred location in Dubai such as a hotel, and take you to the quad biking site. After the adventure, you will be safely transported back to your hotel.
This service eliminates the need to worry about transportation logistics, ensuring a seamless and hassle-free experience for you and your family. Simply let us know your pick-up location when making your booking, and we'll make the necessary arrangements to ensure you have a smooth and enjoyable quad biking adventure in the Dubai desert.
Kids Quad Biking Dubai Tour Additional information
1. Safety
We always prioritize your kid's safety. That's why we provide a range of safety measures to guarantee a secure adventure. Our safety precautions include equipping your child with a safety helmet and goggles, shielding them from potential hazards, and ensuring their eyes and head are safeguarded throughout the ride. Additionally, our dedicated team of instructors is highly trained to ensure that kids are well-prepared and supervised throughout the experience.
We take pride in our safety-first approach, enabling your child to revel in the thrill of quad biking in Dubai's desert while you have peace of mind, knowing that their safety is our top priority.
2. Photography
Capture the magic of your kid's quad biking adventure in Dubai with our photography services. Our skilled photographers are experts at preserving those special moments as your child embarks on an unforgettable desert journey.
Our photographers capture cherished memories, from action shots of your child conquering sand dunes to candid moments of their excitement. Let us handle the photography, so you can focus on enjoying the adventure alongside your child. At the end of the experience, you'll have the option to purchase these professionally captured memories, allowing you to relive the joy and thrill of the quad biking adventure for years to come. Leave no memory behind – trust us to capture them all.
3. Clothes and Shoes
Choosing the right clothes and shoes is essential to ensure comfort and safety during your desert experience.
Clothes: We recommend wearing lightweight, breathable clothing suitable for outdoor activities. Loose-fitting attire will keep you comfortable in the desert's warm climate. Long sleeves and long pants are advisable to protect against the sun and potential contact with sand. Further, don't forget to apply sunscreen to exposed skin for added protection.
Shoes: Opt for closed-toe, comfortable shoes with good traction. Sneakers or sports shoes are ideal as they provide stability and support for quad biking. Avoid open-toed shoes, sandals, or flip-flops, which may not offer adequate protection and support in the desert terrain.
4. Not Recommended
There are certain behaviors and items we do not recommend
A. Inadequate Clothing: It is not recommended to wear clothing that is not suitable for the desert environment, such as heavy or restrictive attire. Because it can lead to discomfort and limit mobility during the adventure.
B. Valuables: It's best not to bring valuable items like expensive jewelry, large sums of money, or valuable electronics. Moreover, they may be subject to damage in the desert environment.
C. Excessive Baggage: We prohibit the bringing of large bags, suitcases, or excessive baggage, as they can be cumbersome and may not find accommodation during the quad biking experience.
D. High Heels or Open-Toed Shoes: Wearing high heels or open-toed shoes like sandals or flip-flops is not advisable for safety reasons. They may not provide adequate protection and support on desert terrain.
5. Child's (Age Requirement)
For our Kid Quad Biking, we have specific age requirements to ensure the safety and suitability of the experience. Children must be a minimum of 7 years old to participate in this adventure.
This age requirement is set to ensure that children have the necessary physical and cognitive development to safely operate and control the quad bikes. Our specially designed kid-friendly quad bikes are tailored to suit the capabilities of children aged 7 and above, offering an age-appropriate and secure experience.
At this age, children are often more capable of following instructions, understanding safety guidelines, and enjoying the adventure while under the supervision of our trained instructors. This requirement is in place to prioritize the well-being and enjoyment of all young riders during the quad biking experience
6. Large Group
For larger groups seeking a thrilling kid quad biking experience in Dubai, we offer special discounts and packages tailored to fulfill your needs. We understand that traveling with a large group, whether it's friends, family, or colleagues, is a fantastic way to create shared memories and enjoy unique adventures together.
We design group discounts to make the quad biking adventure even more accessible and affordable for everyone. Whether you're planning a family reunion, a corporate team-building outing, or a celebration with friends, our team can assist you in customizing your quad biking experience to suit your group's size and preferences.
By choosing our group packages, you not only enjoy the excitement of kid quad biking but also benefit from cost savings, ensuring that everyone in your group can participate and have an unforgettable time exploring the beautiful desert landscapes of Dubai.
7. What to bring for ATVs Tour
 Bring Emirates ID if you are UAE Resident, and Passport if you are on Tourist Visa.
Comfortable shoes
Sunglasses
Sun hat
Camera
To ensure a comfortable and enjoyable kid quad biking experience in Dubai, here is a list of items you should consider bringing with you:
Identification: For UAE residents, please remember to bring your Emirates ID. If you're visiting on a tourist visa, have your passport handy for identification purposes.
Comfortable Shoes: Wear comfortable and closed-toe shoes that provide good support for your feet during the quad biking adventure.
Sunglasses: Protect your eyes from the desert sun and blowing sand by wearing sunglasses with UV protection.
Sun Hat: A wide-brimmed hat can provide additional protection from the sun and keep you cool during the desert adventure.
Camera: Don't forget your camera or smartphone to capture the breathtaking desert landscapes and the smiles of your kids as they enjoy the quad biking experience.
8. Not allowed
For the safety and comfort of all participants in our kid quad biking adventures in Dubai, we have certain restrictions on what is not allowed during the experience:
Pets: For the well-being of your furry friends and the consideration of other participants, please avoid bringing pets to the quad biking site. The desert environment may not be suitable for animals. It's important to ensure a safe and enjoyable experience for all.
Luggage or Large Bags: Large bags and luggage are not permitted during the quad biking adventure. It's advisable to leave such items at your accommodation or arrange for secure storage if necessary. Moreover, this policy helps ensure the safety of participants and prevents any potential interference with the quad biking experience.
9. Steps to Reduce The Risks of Accidents and Injuries
To ensure the safety of our young riders during kid quad biking, we follow a set of crucial steps to reduce the risks of accidents and injuries:
Maintain Safe Speeds: Our instructors emphasize the importance of riding at safe and controlled speeds. Children are encouraged to follow speed guidelines to prevent accidents while still enjoying the thrill of the ride.
Wearing Safety Equipment: Every child is provided with essential safety equipment, including helmets and goggles. Moreover, we insist on their proper use to protect against potential injuries.
Be Attentive: Instructors stress the need for constant attentiveness. We teach kids to maintain focus on the terrain, follow instructions, and stay aware of their surroundings
Caution around Dunes: Riding around sand dunes requires specific skills and caution. So, we provide guidance to children on how to navigate dunes safely to prevent mishaps.
10. Currency Accepted
We accept various currencies for your convenience when booking our kid quad biking Dubai trip. The accepted currencies include:
US Dollar (Dollar)
United Arab Emirates Dirham (AED)
Euro (Euro)
British Pound (Pound)
Saudi Riyal (Riyal)
This flexibility allows you to pay using your preferred currency, making the booking process more convenient for visitors from different parts of the world. Please note that exchange rates may apply when using currencies other than the United Arab Emirates Dirham (ASD). So it's a good idea to check with our booking service for the most up-to-date information on currency conversion and payment options.
Quad Biking Dubai Location
Our kids quad biking dubai adventures are set amidst the captivating and iconic Red Dunes of the Al Lahbab Desert in Dubai. This stunning desert location is famous for its towering sand dunes, which boast a rich, red hue that creates a surreal and visually striking landscape.
It is located just a short drive from Dubai's bustling city center. Moreover, the Al Lahbab Desert offers families the perfect escape to nature without venturing too far from the urban hub. Here, children can experience the thrill of quad biking amid the ever-shifting dunes, surrounded by the serene beauty of the desert
The Red Dunes of Al Lahbab provide an awe-inspiring backdrop for unforgettable family adventures. Moreover, they offer a glimpse into the breathtaking natural wonders of Dubai's desert landscape.
Quad Biking Dubai Tour Cancellation Policy
Cancel up to 24 hours in advance to receive a full refund, except (transfer charges will apply).
Cancellation less than 24 hours in advance or no show will be 100% charged.
The refund amount will be credited back to the same card used for booking
In the event of poor weather conditions or other external factors out of our reasonable control, the activity/tour may be canceled at short notice, without any charges being applied to the guest. In such cases, the tour/activity can be re-scheduled or a full refund will be processed.
The refund might take 7 to 14 days to reflect in your account, depending on the bank's policy.
Quad Biking / ATV Tour Full Description
Our Kid Quad Biking Adventure in Dubai is a super fun family activity. You get to ride cool quad bikes in the desert, and it's totally safe for kids. Plus, you get to enjoy the stunning Dubai desert scenery and make awesome memories together.
Renting a kid's quad bike from Quad Bike Dubai is really easy. Here's how it works:
Booking
First, go to our website https://quadbike-dubai.com/ and fill in the booking form. Just add your name and some important info like your age and ID or passport details.
Pickup:
On the scheduled day, we'll send a driver to pick you up if you want. They'll take you to where we keep the quad bikes. It's usually in places where lots of tourists go or in the desert adventure spots.
Instructions and Safety Gear:
When you reach there, our staff will train your child exactly how to ride the quad bike safely. Make sure you understand how the quad bike works. Moreover, if you have any questions, just ask. We want you to have a great time without any worries.
After that we'll provide you and your child all the safety items like helmets and sometimes gloves and goggles. Safety is super important!
Riding:
Once you feel comfortable, it's time to hit the trails! Follow the paths we recommend. Remember, in some places, there might be rules about how old or tall kids need to be to ride.
Return:
Upon completion of your ride, bring the quad bike back at the time we agreed on. The staff will inspect the quad bike for any damage. Be sure to follow our return rules. Further, pay any money you owe, too.
Feedback:
You will surely had a fantastic time with us, don't forget to leave a review or telling us what you liked. It helps the future renters to know about us and our amazing services.
Finally, after returning the quad bike, you can continue to enjoy your day in Dubai by exploring other attractions and activities, knowing that you've successfully navigated the rental process for a fun and safe adventure. So, get ready for a fantastic time with your family on our kid-friendly quad bike adventure in Dubai!
Kids Quad Biking Dubai FAQs