Dune Buggy Rental in Dubai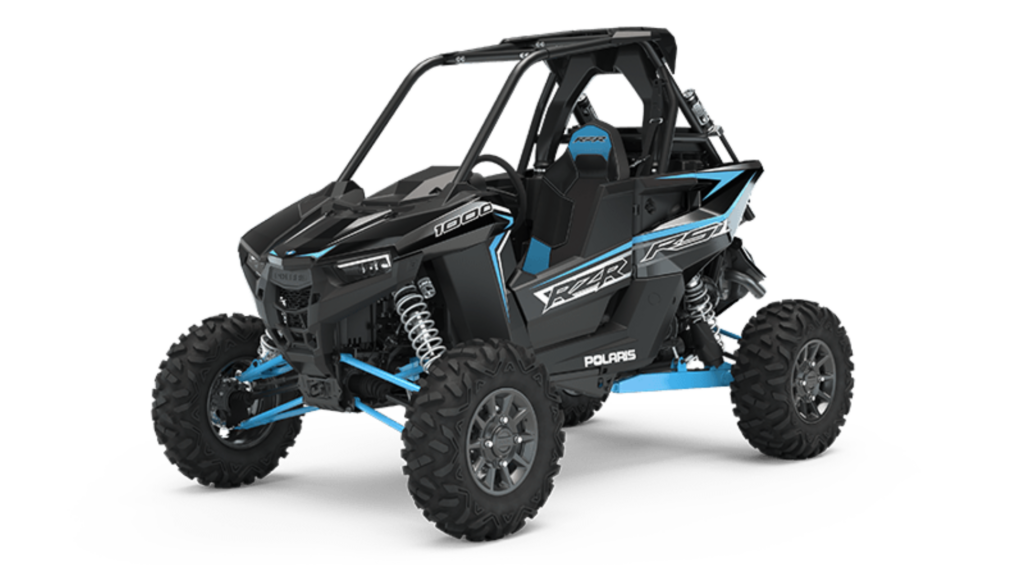 Single Seat Polaris Dune Buggy Dubai
Duration
New Price
Old Price
30 Minutes
399 AED | 110 USD
570 AED
1 Hour
700 AED | 195 USD
1000 AED
2 Hours
1200 AED | 340 USD
1700 AED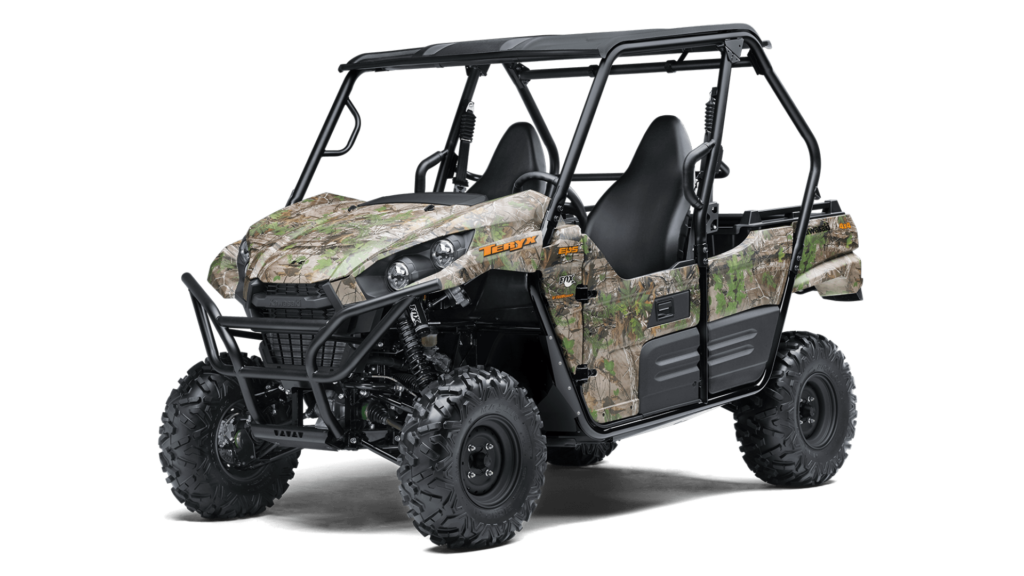 Double Seat Kawasaki Dune Buggy
Dune Buggy Rental Dubai Open Desert
Duration
New Price
Old Price
30 Minutes
399 AED | 110 USD
570 AED
1 Hour
700 AED | 195 USD
1000 AED
2 Hours
1200 AED | 340 USD
1700 AED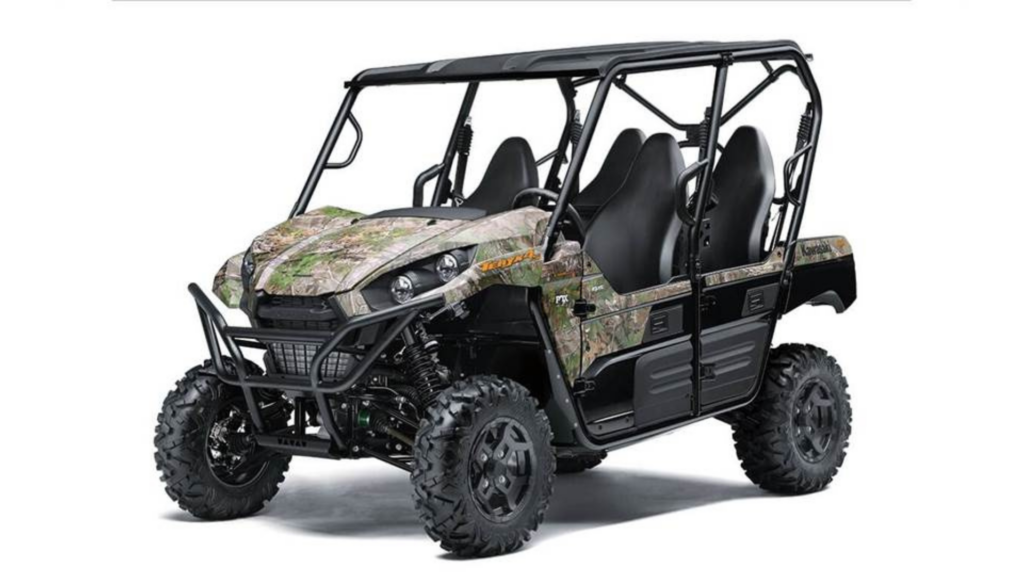 Four Seater Kawasaki Dune Buggy
Open Desert Buggy Rental Dubai
Duration
New Price
Old Price
30 Minutes
550 AED | 155 USD
780 AED
1 Hour
900 AED | 250 USD
1280 AED
2 Hours
1450 AED | 400 USD
2050 AED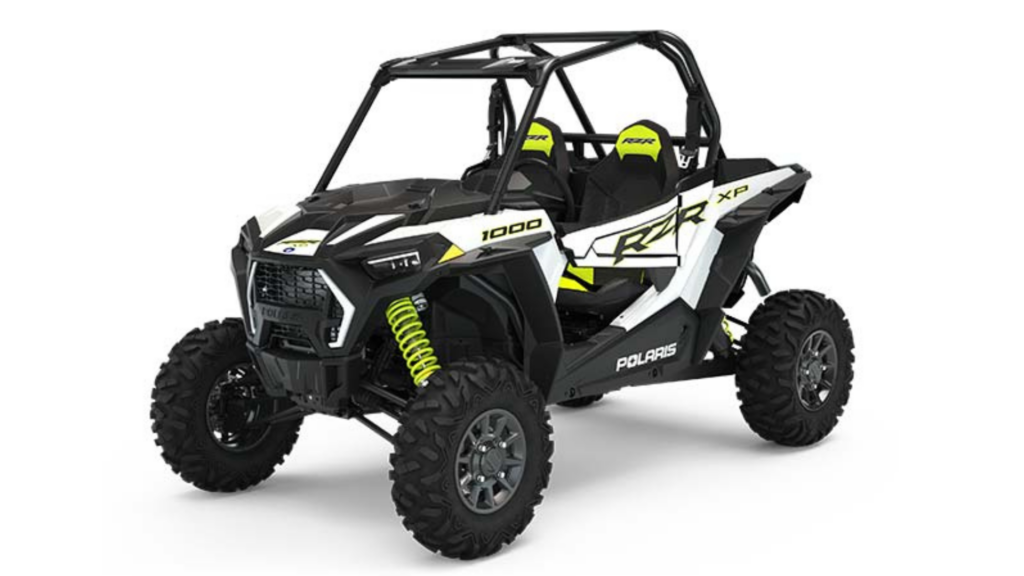 Double Seat Polaris Turbo Dune Buggy
Dune Buggy Rental Dubai Red Dunes
Duration
New Price
Old Price
30 Minutes
600 AED | 165 USD
850 AED
1 Hour
950 AED | 265 USD
1350 AED
2 Hours
1600 AED | 450 USD
2300 AED
CAN-AM RS RR Turbo Maverick Buggy
Duration
New Price
Old Price
30 Minutes
950 AED | 265 USD
1350 AED
1 Hour
1600 AED | 450 USD
2300 AED
2 Hours
2800 AED | 780 USD
4000 AED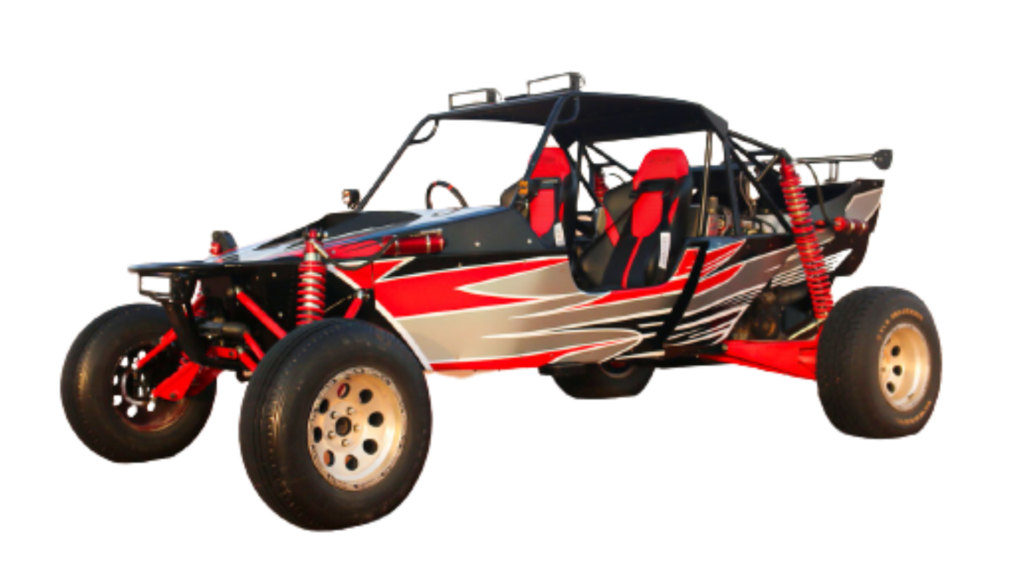 Custom Double Seat Dune Buggy
Dune Buggy Rental Dubai Desert
Duration
New Price
Old Price
30 Minutes
950 AED | 265 USD
1350 AED
1 Hour
1600 AED | 450 USD
2300 AED
2 Hours
2800 AED | 780 USD
4000 AED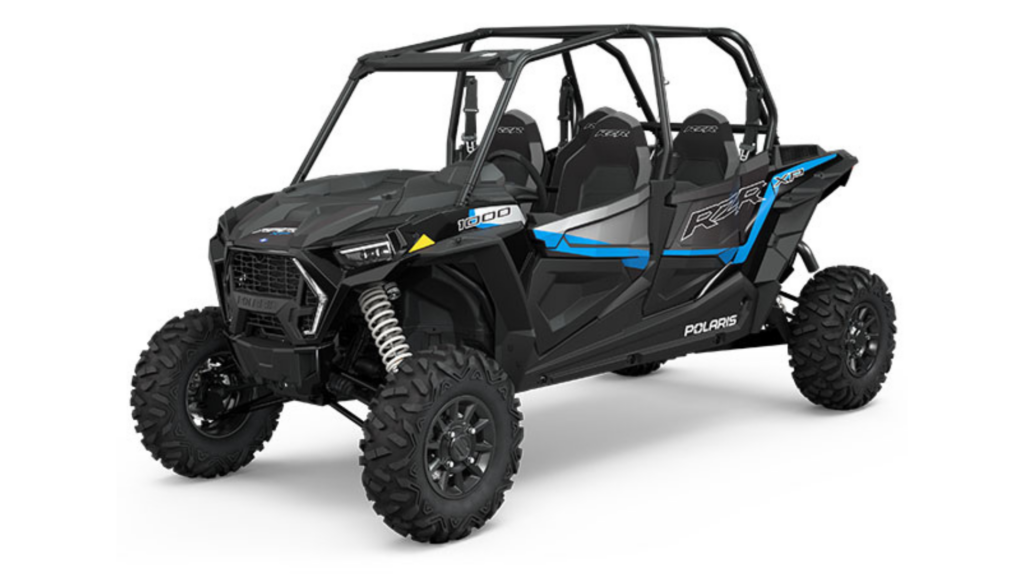 Four Seater Polaris Dune Buggy RZR
Dubai Dune Buggy Rental Tour
Duration
New Price
Old Price
30 Minutes
750 AED | 210 USD
1100 AED
1 Hour
1100 AED | 310 USD
1550 AED
2 Hours
1800 AED | 500 USD
2600 AED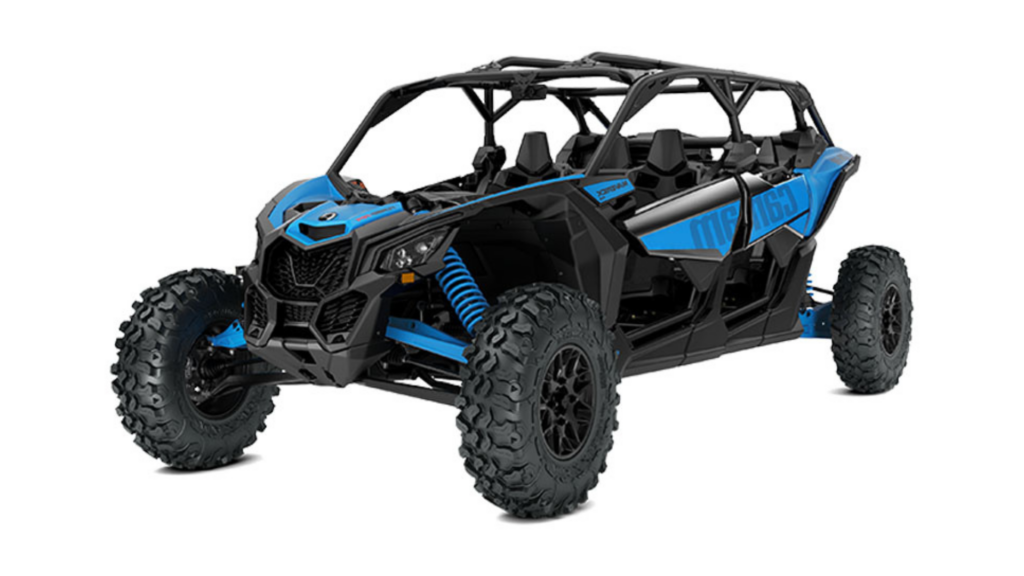 Four Seater Can-Am Maverick Buggy
Red Dunes Buggy Rental Dubai
Duration
New Price
Old Price
30 Minutes
1100 AED | 310 USD
1600 AED
1 Hour
1900 AED | 540 USD
2700 AED
2 Hours
2900 AED | 810 USD
4100 AED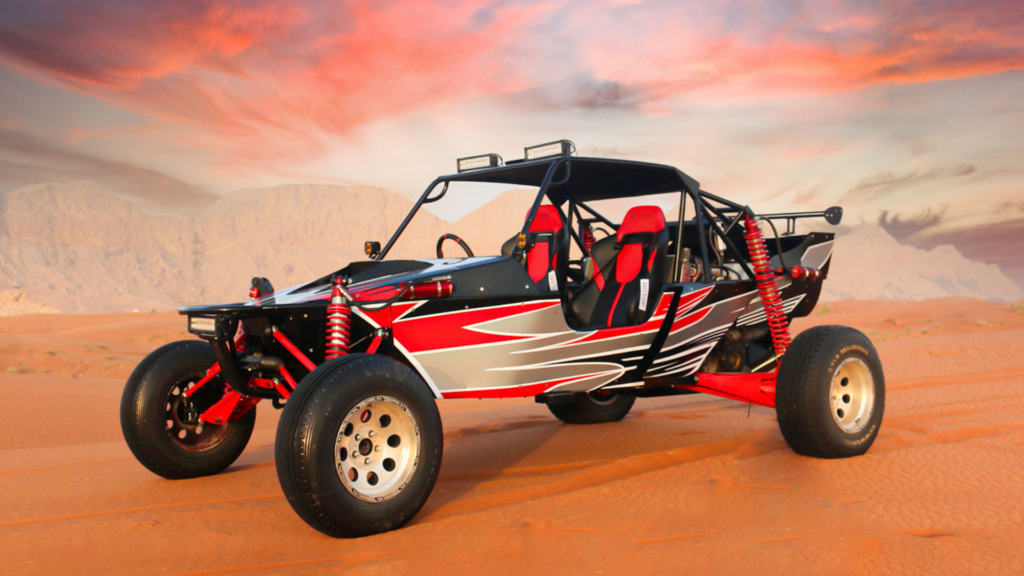 Custom Four Seater Dune Buggy
Buggy Rental Dubai Desert Red Dunes
Duration
New Price
Old Price
30 Minutes
1100 AED | 310 USD
1600 AED
1 Hour
1900 AED | 540 USD
2700 AED
2 Hours
2900 AED | 810 USD
4100 AED
Dune Buggy Rental Dubai Price List
Dune Buggy Dubai Rental Price
Single Seat Dune Buggy Rental Dubai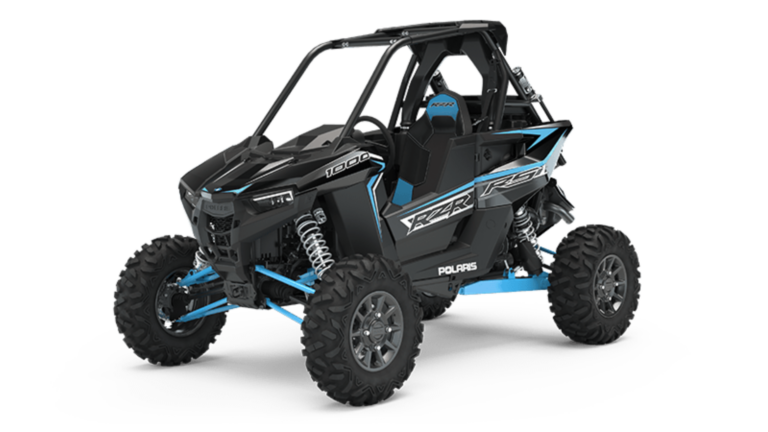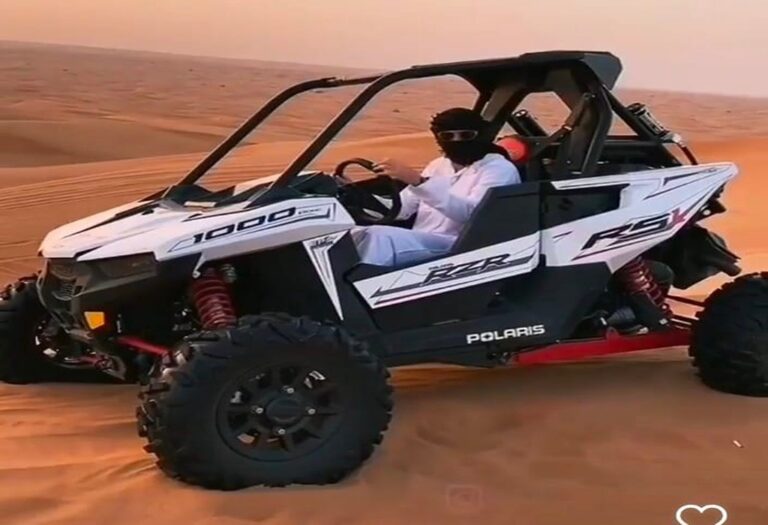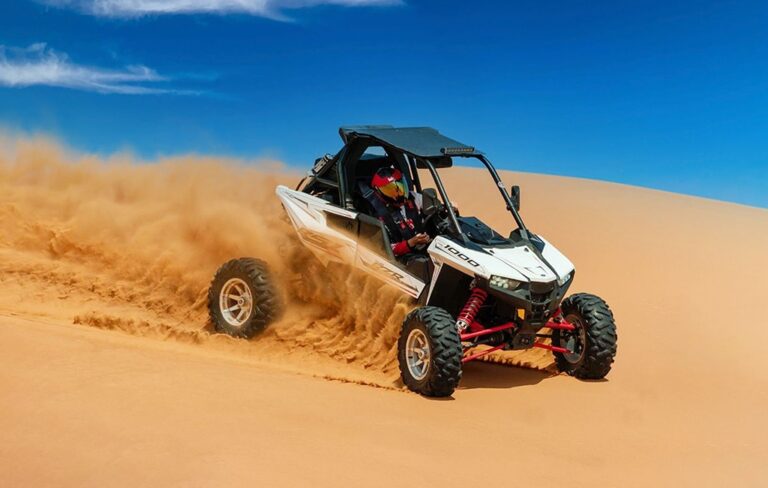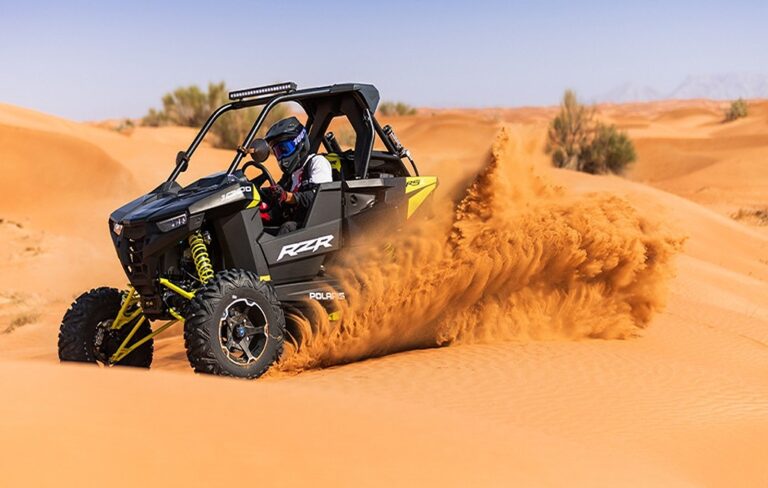 If you come to the heart of UAE. It must be the grand desert. UAE has its awash beauty because of Burj Khalifa, wonderful shopping malls, unbelievable attractive Mosques, outstanding markets but wait…What about desert? Desert is the silent beautiful garden of UAE where you cannot see flowers, plants and trees but you can behold the rare, untouched attraction of innocent desert. Sand, in desert of Dubai, flows like crystal water.
Dune buggy is a 4×4 vehicle which is not only used for mountains driving but also for desert driving. Different type of dune buggy rental available single seat double seat, and four-seater dune buggy. In this content single seat dune buggy will be articulated.
We have single seat dune buggy vehicle which you can drive in open desert. A tour guide must be with you to instruct you about Desert and dune buggy driving rules. You can rent a dune buggy for one hour, two hours and even more to relish yourselves in the desert of Dubai.
You may come with your friend and family particularly in morning to have new touch of the desert of Dubai. You may come in dusk time to behold your reflection on the sand of desert. You, in the morning, can also enjoy aromatic breeze. –
The engine capacity of single seat Dune buggy is 1000 CC and it is for one tourist. Now day 30% Discount available on dune buggy rental Dubai. We will help you by giving discount which is a blessing for tourists. Single seat dune buggy has different kind of fee for different time like 30 minutes, one hour and two hours have fee charges differently.
Before you go on a riding a Dune buggy trip, we provide you with a complete Dune Buggy kit in which you can be safe from any untoward incident. Pick and drop available from Dubai, Sharjah, and Ajman which is provided on request. We provide transport facilities according to the number of passengers, for example, minibuses. Luxury cars are also available if you need them.
Safety is very important for important things. The tourists are advised to take care of their luggage. If something is lost, we will not be responsible for it. Because it is difficult to rummage in the sand of desert. Driver age should be sixteen plus for driving. So, do not delay and come to desert for better experience.
Double Seat Dune Buggy Rental Dubai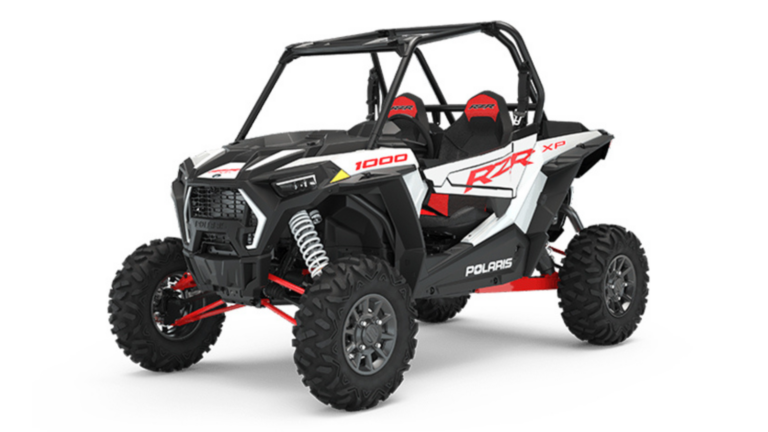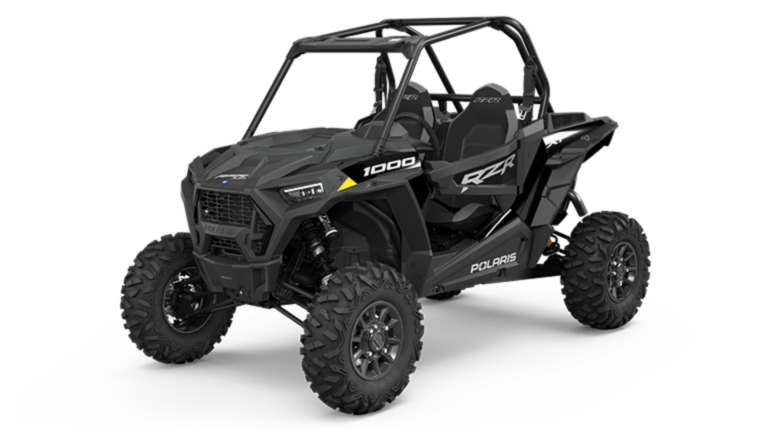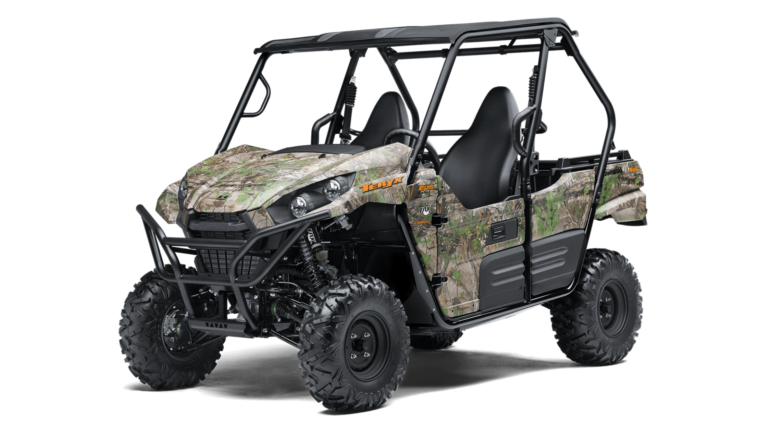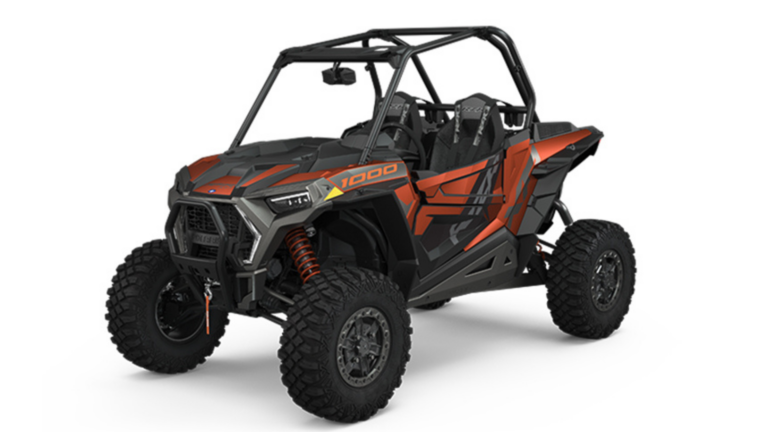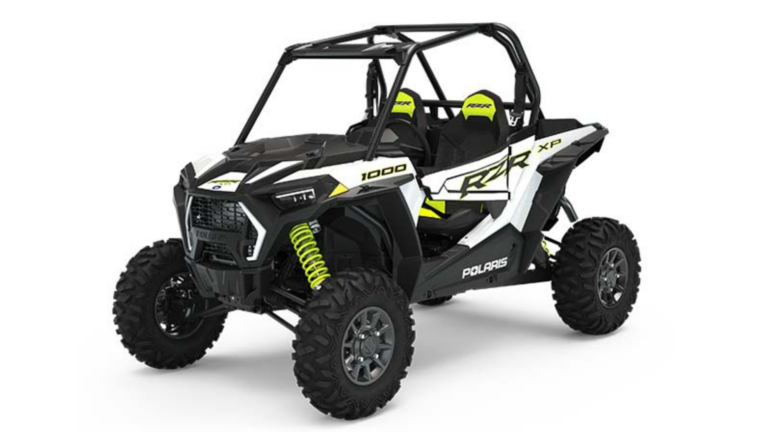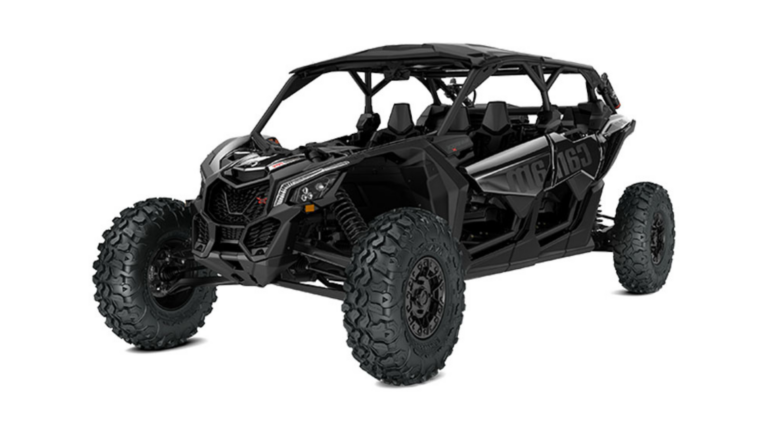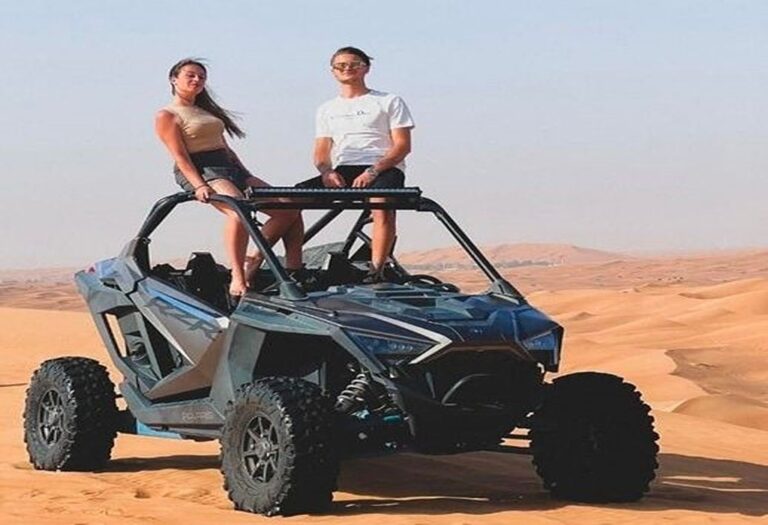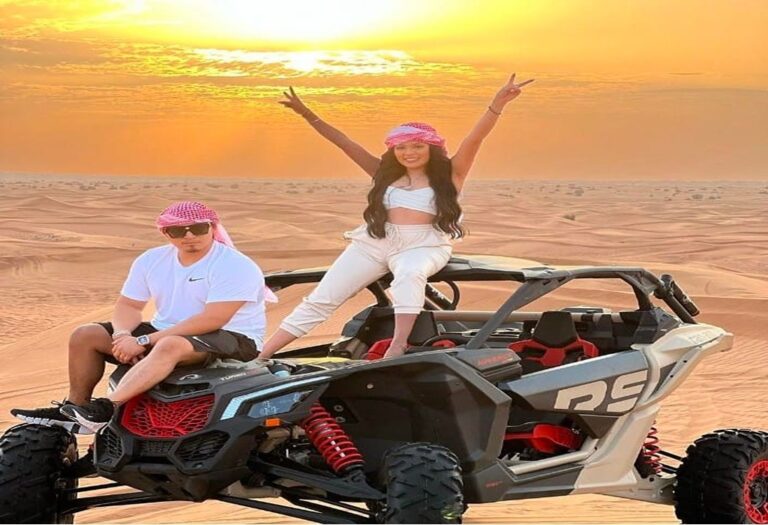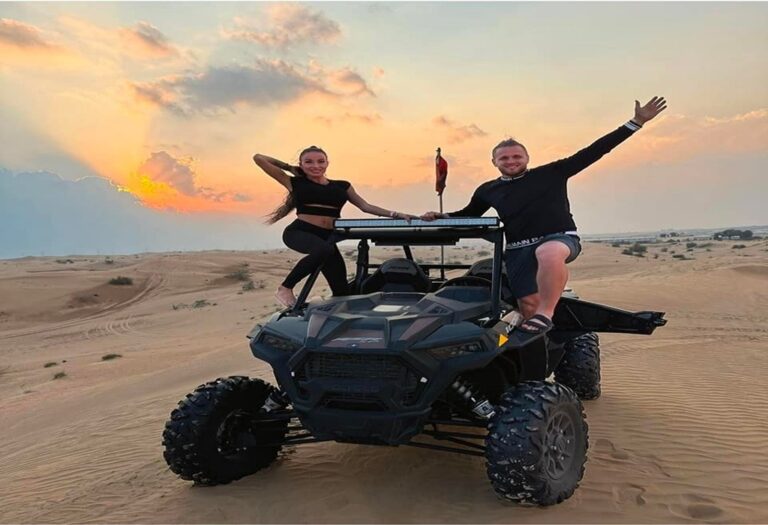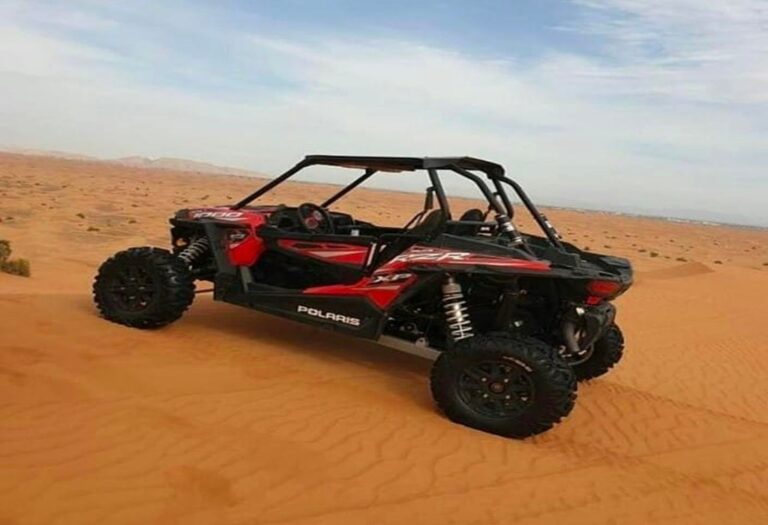 You can visit different places in desert even new discovery can be made possible by you because Dubai desert has many hidden places. Double Seat Dune buggy where you can sit next to your friend for better excursion. You can also sit next to your life partner and can enjoy the real nature of universe romantically.
We bestow up-double seat turbo buggy for 30 minutes, one hour, and two hours. It depends on the tourists how many hours they demand for it. You can have a real touch in Dubai desert by coming here as a tourist. You can ride and enjoy 8th wonder of the world in the desert of Dubai.
When the storm of dust dances behind the dune buggy it seems that golden pearls are raining. Age limit of driving a dune buggy is sixteen plus. Our guide will be with you to guide you in desert. The capacity of engine of Dune buggy is 800 CC to 1000 CC which slides on desert sand like a black snake of desert.
On Dune Buggy rental discount price is considered blessing for tourists which is now a days wriggling in the desert of Dubai. You will be granted every kind of facility regarding discount which will indeed be admired by you. So, come quickly and dive in the tourism lake.
The real taste of tour can be tasted in dusk (sunset) time when the smooth silence is befallen and tourists sense the presence of another world.
You should also take pictures to imprison the marvelous reminiscence. So, take a wonderful camera to capture yourselves in the grand desert of Dubai. So, first come and first served in the colorful environment of Dubai desert.
You have to take care of your luggage. If you have precious luggage and it is lost, then it will be extremely difficult to search it out in the unlimited ocean of desert. So be cautious and be with your luggage because our guide will not be then blamed for losing any kind of thing.
Four-Seater Dune Buggy Rental Dubai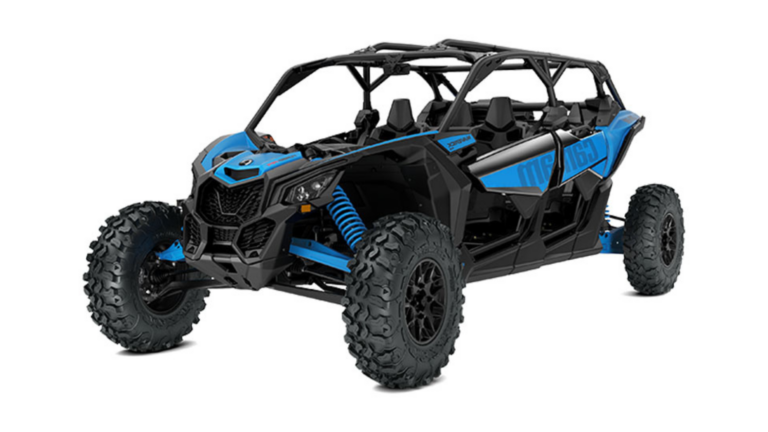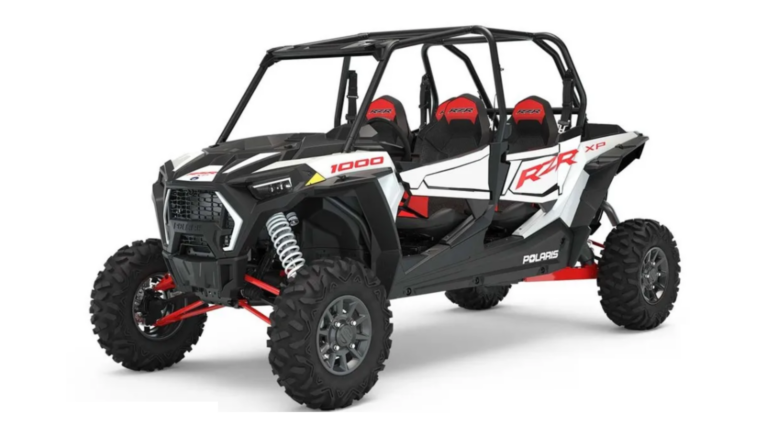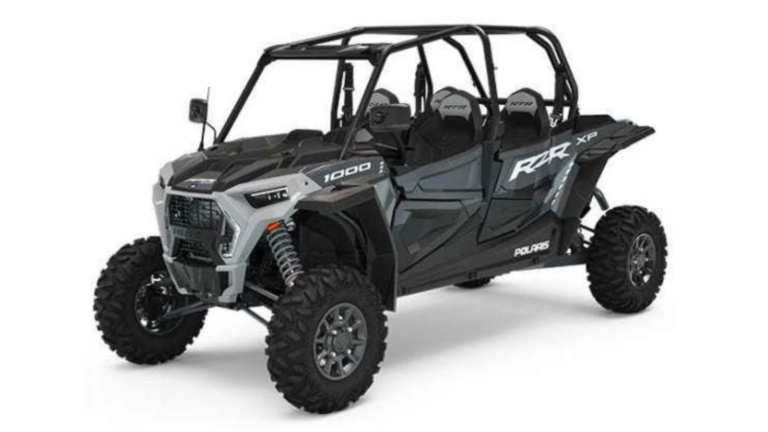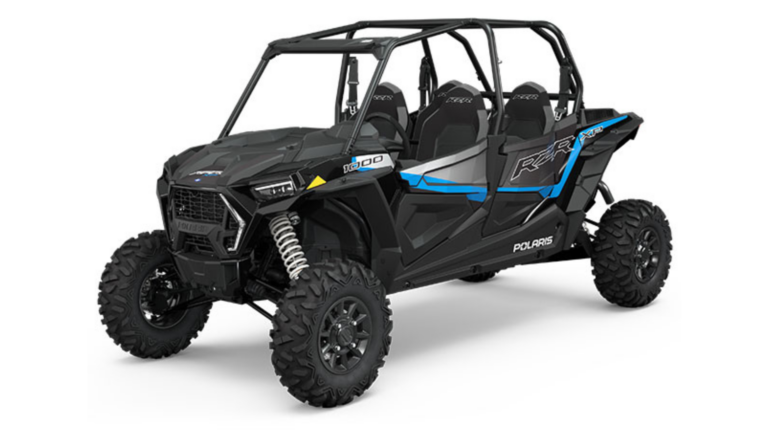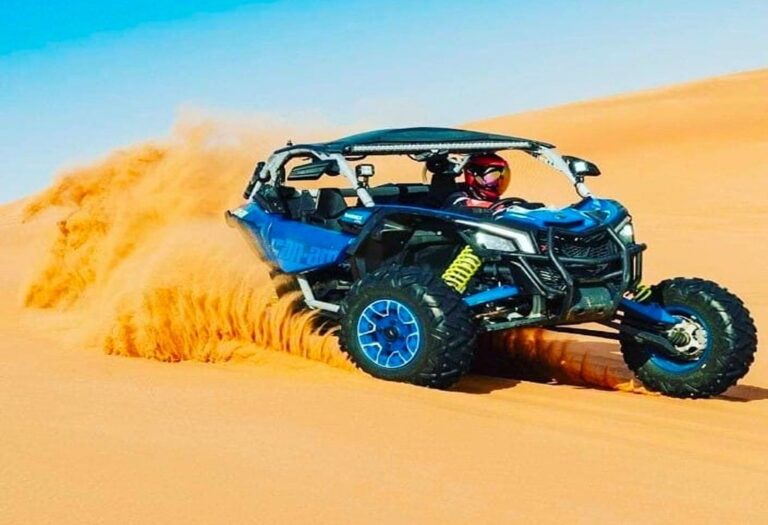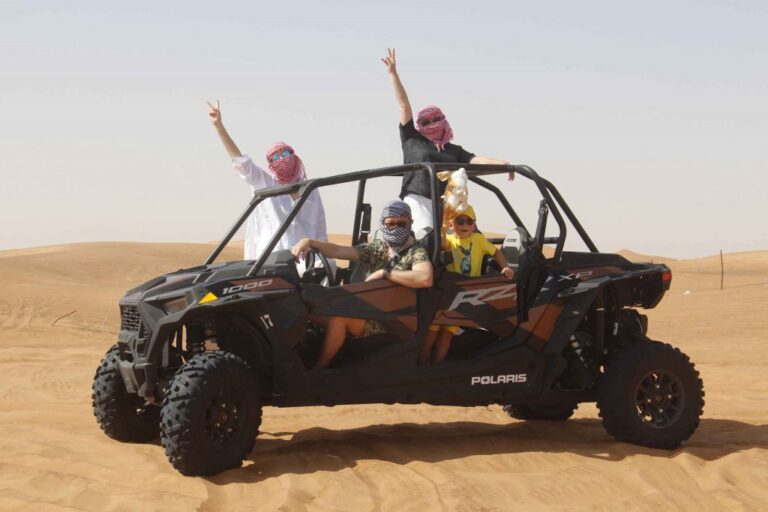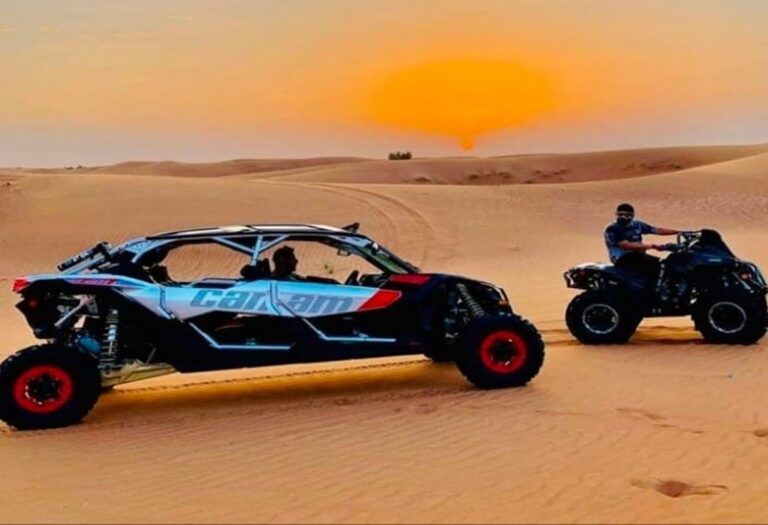 Tourism is one of the greatest funs. It is the source of learning and discovering a new place. Tourism is not business which needs investment but it needs liveliness of heart. If you are alive means, you like tourism, so come to the desert of Dubai to see a beautiful world of desert. The smooth and innocent beauty of desert cannot be forgot. Tourists who want to discover new things must come to Dubai desert to embrace the 8th wonder of the world. This universe is indeed extremely beautiful; there are forests, greenery, lakes, mountains but there are Vast and stunning deserts.
In beautiful desert of Dubai enjoy four-Seater dune buggy with friends or family. It is that every tourist may feel in a new world, a journey full of thrill and adventure. The benison of this buggy is that where four tourists can sit easily and relish themselves from the untouched beauty of Dubai desert. They might have friends, members of family like husband, wife and children. Its engine capacity is one thousand CC, which is obviously able for driving in desert or mountainous areas.
Four-seater buggy cars are available in morning, afternoon and in the evening. You can drive in the morning when breeze bewitches the entire desert. You can drive in the afternoon too when the sunrises rule the desert. You can also drive in the evening when the desert beauty sprouts in four sides.
Discount price, now a days, available which you can utilize. Tourists should take durable camera to capture pictures and share them with their members of family and friends. Adorne your Dubai tour coming to Dubai desert.
Safety should be given priority. You should take care of your luggage. The desert is unlimited if something is lost it will, then, be immensely difficult to search it out. Our tour guide must be with you to take you back because of your safety. So, do not panic you will be helped by our tour guide. Age limit is fourteen years. Below fourteen-year riders would not be allowed for riding. Drive slowly if you have children. Because of high speed it will become risky. So, you must take care of these things for your safety.
Pick and drop is also available. If you request for pick and drop, this facility will be provided for you in Dubai, Ajman and Sharja. The tourists are picked and then dropped at their destination. So, come to Dubai desert and enjoy a tour full of adventure.
Custom Dune Buggy Rental Dubai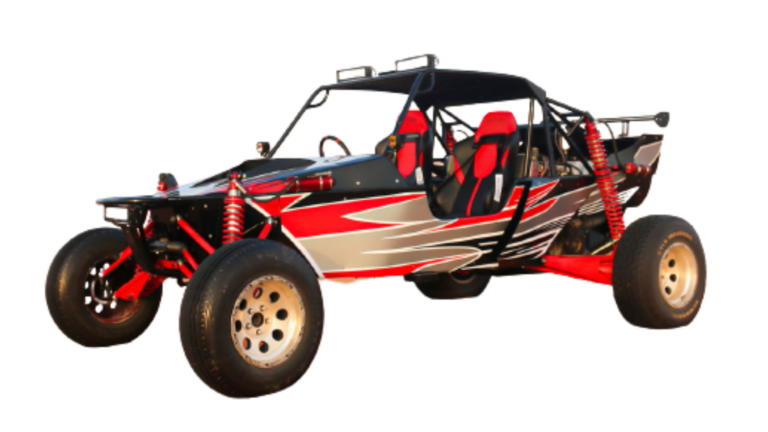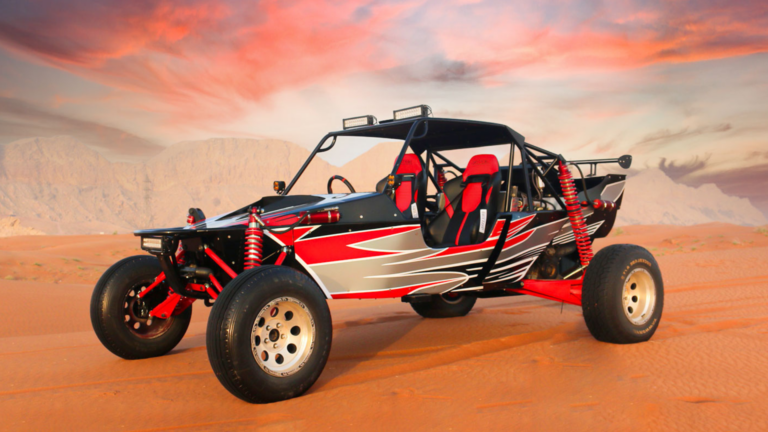 Custom dune buggy is more power full as compare to other buggy. Custom Dune buggy engine CC from 1000 CC to 3000 CC. These 4×4 Buggy are considered the camels of desert. They would not be out of order. They will function properly. They are particularly constructed for tourism.
These Vehicle have double seats where two tourists can sit and enjoy the tour. Custom dune buggy has also four seats where friends can sit next to each other and drive peacefully. It is particularly for members of family where husband, wife and children can sit and explore the rare grace of desert. They can also take their children with them to relish themselves in desert. These seats are broad and soft where tourists feel relax during driving and riding.
Custom dune buggy is given for Rent available 30 Minutes, 1 Hour, and 2 Hours with a reasonable price. Different time has different fee charges. A huge discount ease is available now a days. Now, it depends on you to come to desert and have fun.
Driver age is eighteen plus. If a driver is below 18 years will not be allowed for driving in the desert of Dubai because it is clearly risky while passenger age should be 12 years plus. The tourists above twelve years will be allowed for riding in the vast desert of Dubai. It does not have single seat so you can have fun with your friends or family members.
The tourists are advised to take a good camera for taking pictures to beautify their tour even more. Our tour guide must be with you to instruct you about rules and regulations and he will support you on each and every step. If you are lost in broad desert, our guide will take you back to your destination.
You can visit the desert in morning, afternoon or evening. Many tourists suggest evening because the sight of evening is very much astonishing. Pick and drop facility is available on the request. If one calls for pick and drop will be provided.
Large group will be given special discount. So, it is good for you if you are coming in large group for tour. Our client safety is our responsibility. It is our top priority don't worry about any unfair situation. So do not delay and enjoy beautiful colors of nature in one of the famous deserts of Dubai, Al Lahbab desert.
Desert Dune Buggy Tours in Dubai