Things To Do in Dubai for Couples
Dubai is famous for its towering skyscrapers, luxurious lifestyle, and breathtaking desert landscapes, offers a unique blend of romance and adventure for couples seeking an unforgettable experience. It is an ideal place for couples quad biking in Dubai and other adventurous activities like dune buggy rides. While candlelit dinners and romantic walks on the beach are lovely, why not take your love story to new heights with an exhilarating quad biking adventure in the heart of the desert? In this blog, we'll explore why quad biking in Dubai is the perfect activity for adventurous couples looking to spice up their romance.
Quad biking in Dubai offer couples a unique blend of thrill and intimacy. Moreover, the vast desert landscape, with its rolling dunes and endless horizons, sets the stage for an unforgettable adventure. Riding side by side on powerful quad bikes, you and your partner will navigate the sandy terrain, creating lasting memories and a deeper connection.
As the sun sets over the desert, you can pause your adventure to watch the sky burst into hues of orange and pink, casting a romantic glow over the dunes. Furthermore, with expert guides ensuring your safety, you can focus on the exhilaration of the ride and the romance of the moment. Quad biking in Dubai is not just an adventure; it's a love story written in the sand dunes.
Couples Quad Biking Dubai
Quad bikes, also known as quads or ATVs, are compact vehicles with a seat for the rider and handlebars for steering. These rugged vehicles are designed to handle a wide range of conditions, making them ideal for exploring off-road environments such as deserts, forests, muddy trails, and rocky landscapes. Unlike traditional motorcycles, quad bikes feature four wheels, which enhance stability and control, making them suitable for riders of varying skill levels.
Quad biking is renowned for the adrenaline rush it offers. In addition, riders can speed over dirt trails, climb steep inclines, tackle obstacles, and navigate through rough terrain, all while enjoying the sense of freedom and excitement that comes with off-road exploration. It's an adventure that appeals to both beginners and experienced riders, as most ATV experiences offer a range of trails tailored to different skill levels.
Imagine riding with your friends or family through the soft, golden sand dunes, going up and down, and feeling the wind in your face. Moreover, it's a bit like a real-life video game where you're the driver, and the desert is your exciting track. But don't worry, you won't be on your own. There are experienced guides to help keep you safe and show you the best routes. They make sure you have a great time without any problems.
So, if you're in Dubai and looking for an adventure that's thrilling and fun, try quad biking. It's an awesome way to explore the desert and make memories you'll never forget!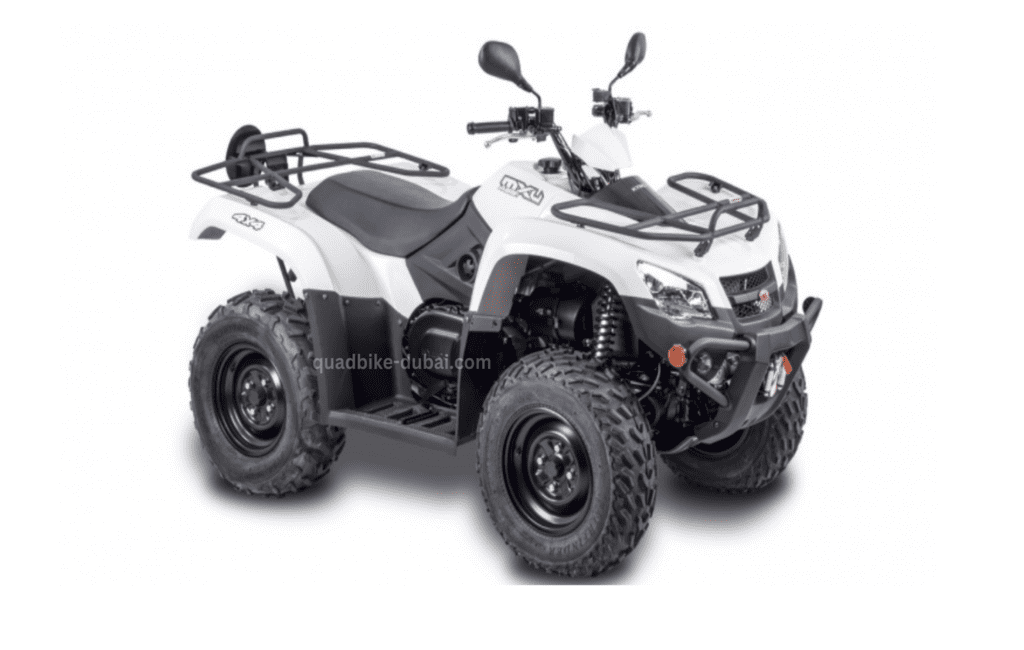 In-Circle Single Seat ATVs Dubai
Duration
New Price
Old Price
30 Minutes
100 AED | 27 USD
150 AED
1 Hour
180 AED | 50 USD
260 AED
2 Hours
260 AED | 74 USD
370 AED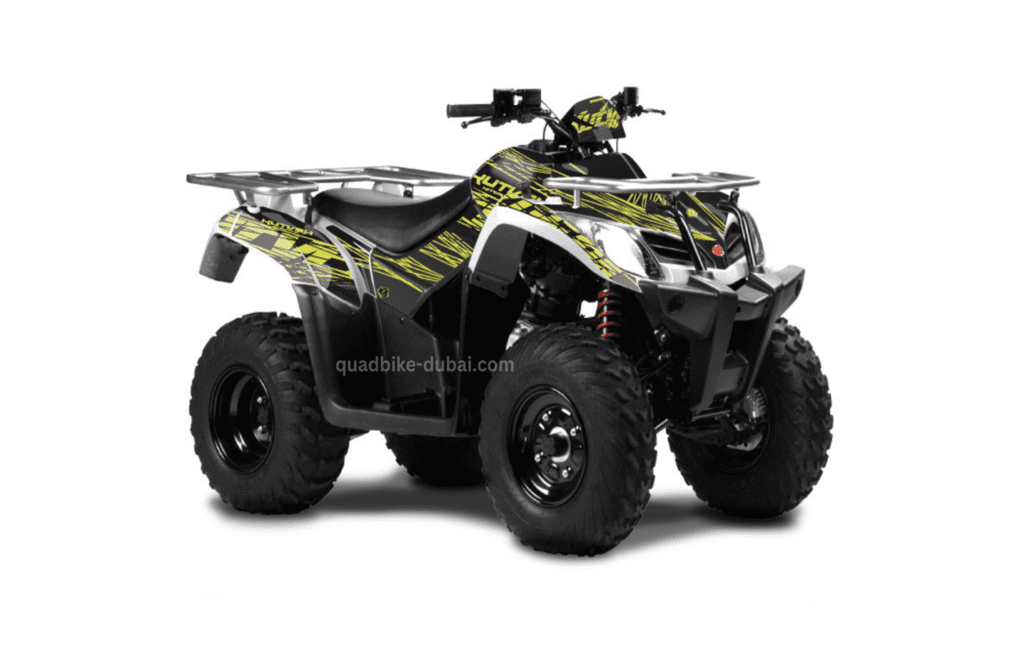 In-Circle Double Seat ATVs Dubai
Duration
New Price
Old Price
30 Minutes
150 AED | 40 USD
220 AED
1 Hour
250 AED | 70 USD
360 AED
2 Hours
350 AED | 100 USD
500 AED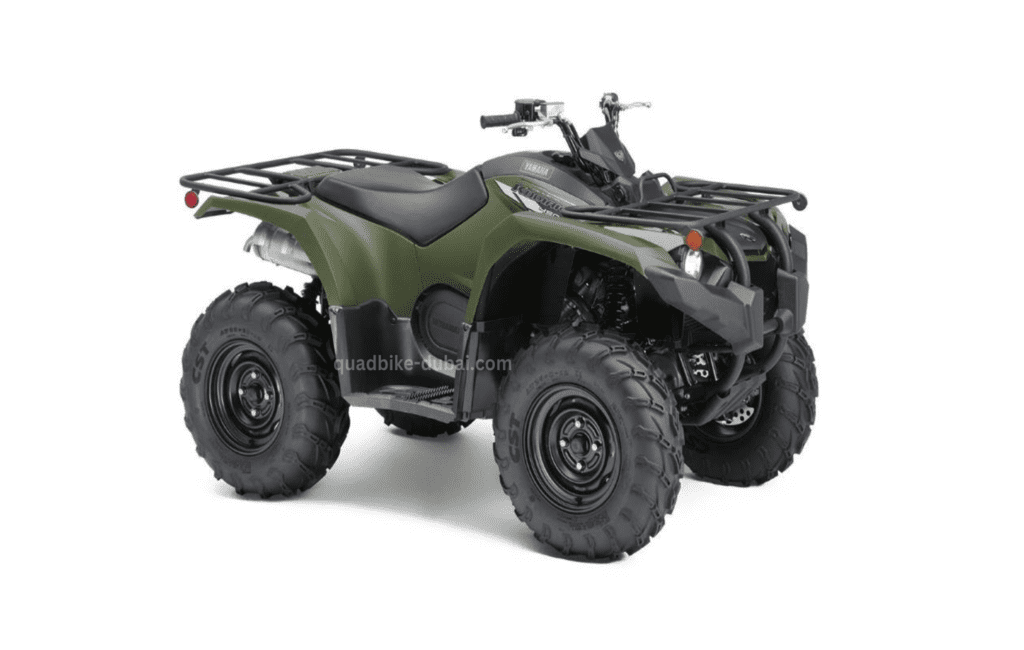 Open Desert YAMAHA Quad Bike Dubai
Duration
New Price
Old Price
30 Minutes
200 AED | 55 USD
370 AED
1 Hour
350 AED | 100 USD
500 AED
2 Hours
500 AED | 140 USD
750 AED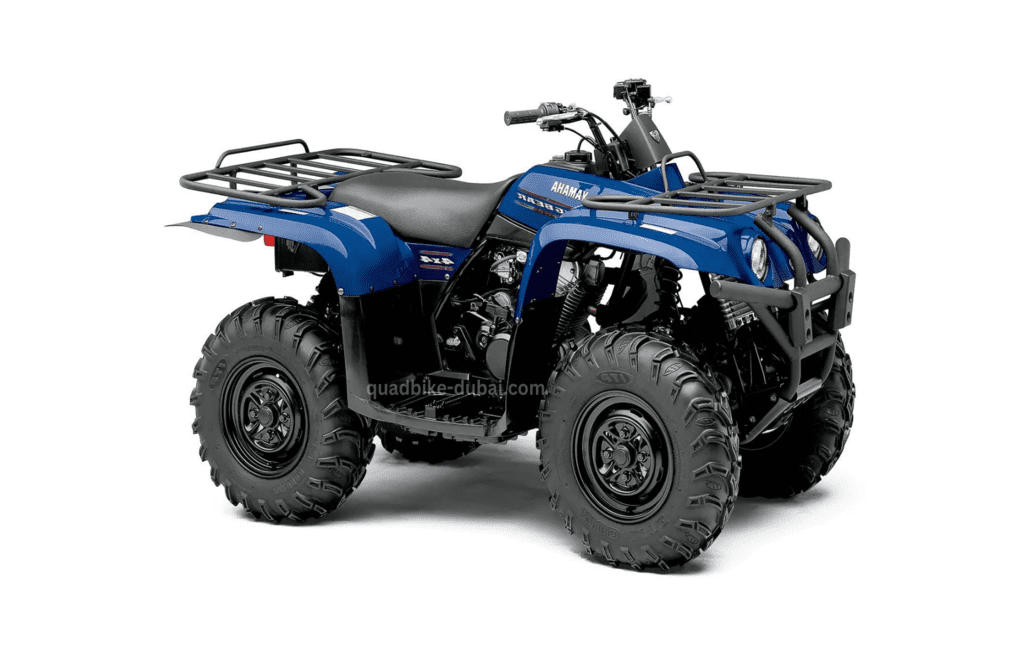 Open Desert YAMAHA ATV Rental Dubai
Duration
New Price
Old Price
30 Minutes
300 AED | 85 USD
430 AED
1 Hour
450 AED | 125 USD
640 AED
2 Hours
600 AED | 170 USD
860 AED
Desert Safari Dubai with Quad Biking for Couples
When it comes to unforgettable experiences for couples in Dubai, few can rival the magic of a desert safari combined with the exhilaration of quad biking. This unique adventure offers couples the chance to bond, explore the mesmerizing desert landscape, and create lasting memories.
A desert safari in Dubai is a journey into the heart of the Arabian Desert. Couples can escape the bustling city life and venture into the serene and awe-inspiring desert expanse that surrounds Dubai. The experience typically begins with a comfortable ride in a 4×4 vehicle that takes you deep into the desert, offering stunning vistas of sand dunes that stretch to the horizon.
Sunset Magic
One of the highlights of a desert safari with quad biking is the chance to witness a desert sunset. As the sun descends below the dunes, it paints the sky with hues of orange and pink, creating a romantic ambiance that's perfect for couples. Moreover, you can pause your ride, enjoy the breathtaking view, and capture the moment with photos that will remind you of your love's adventurous spirit.
Quad Biking: Adding Thrill to Romance
The adventure truly kicks into high gear when you switch from the 4×4 vehicle to a powerful quad bike. Riding in tandem with your partner, you'll navigate the rolling dunes and challenging terrain, feeling the thrill of the ride and the wind in your hair. It's an adrenaline-pumping experience that couples can share, making it even more special.
ATVs Rental for Couples in Dubai
If you and your partner are looking to inject a dose of adventure and excitement into your Dubai vacation, consider ATV (All-Terrain Vehicle) rentals. Moreover, Dubai offers a thrilling experience for couples who want to explore the desert dunes, rugged terrains, and off-road trails, all while enjoying each other's company.
Why Choose ATV Rentals for Couples?
Adrenaline Rush
Riding an ATV through Dubai's desert provides an adrenaline rush like no other. You'll feel the thrill of conquering challenging terrain together, creating a unique bonding experience.
Spectacular Scenery
The desert landscapes in Dubai are nothing short of breathtaking. As you navigate the dunes and trails, you'll be treated to panoramic views of endless golden sands and stunning sunsets – the perfect backdrop for romance.
Freedom to Explore
Our ATV rentals give you the freedom to explore at your own pace. Whether you want an exhilarating ride or a leisurely adventure, you can tailor your ATV experience to suit your preferences.
Memorable Moments
Sharing the excitement of ATV riding in the desert creates lasting memories. From the thrill of the ride to enjoying a quiet moment on a sand dune, these moments will become cherished parts of your relationship's story.
Safety and Guidance
Quad Bike ATV rental in Dubai prioritize safety. Moreover, we offer safety gear and expert guidance, ensuring you have a secure and enjoyable experience.
Single Seat ATV for Couples in Dubai
Single seat ATVs are designed for solo riders and may not be suitable for couples. If you're planning to enjoy an ATV adventure with your partner in Dubai, you would typically need to rent two separate ATVs, each designed for a single rider. This way, both you and your partner can have your own vehicle to control while exploring the desert and its surroundings
We offers various ATV rental that cater to couples and individuals alike. Moreover, we offer a fleet of ATVs, including both single-seat and larger multi-seat options, so you can choose the vehicle that best suits your needs and preferences.
In-Circle Quad Biking in Red Dunes for Couples
Dubai's Red Dunes, known for their mesmerizing beauty and fiery hues, offer couples a unique opportunity to embark on a thrilling yet intimate adventure. In-Circle quad biking amidst these crimson dunes is the perfect way to bond, explore, and create lasting memories together.
With our in-Circle quad biking, couples can delve deep into the heart of these dunes, following a circular path that allows them to explore the stunning terrain from various angles.
One of the most enchanting aspects of quad biking in the Red Dunes is the opportunity to witness a captivating desert sunset. Additionally, imagine pausing your ride to watch the sun dip below the horizon, casting a warm, golden glow over the dunes. It's a romantic moment that etches itself into your memories, creating a story to share for years to come.
Open Desert Quad biking in Red Dunes for Couples
If you want an exciting adventure with your partner, open desert quad biking in red dunes is an exciting opportunity. Moreover, it's like having a huge playground for fun, and you can go anywhere you want.
Open desert quad biking lets you ride through the wide-open desert without any obstacles. You and your partner can zoom up and down the sandy hills, race through the valleys, and explore the desert freely.
Connect with Nature's Beauty
This adventure isn't only about excitement; it's also about getting closer to each other. Moreover, with the beautiful desert all around you, you and your partner can enjoy special moments together. As the sun goes down and the desert looks even more romantic, you'll create memories that you'll always remember.
Double Seat ATV for Couples in Dubai
We offering Double Seat ATV for couples in Dubai. You can rent out ATV at cost effective rates from Quad Bike Dubai. In addition, we typically take you deep into the desert dunes, allowing you to enjoy the stunning scenery while riding on a double seat ATV. You'll have the chance to witness the desert's beauty and capture some unforgettable moments
Moreover, we provide safety equipment such as helmets, and goggles to keep you and your partner secure. Listen to the safety instructions given by our guides, and follow all guidelines to ensure a safe as well as enjoyable experience.
Double seat quad bikes in Dubai typically have engine capacities ranging from 270 CC to 450 CC. These engine sizes provide sufficient power for off-road desert adventures.
The minimum age requirement for driving a double seat quad bike is 15 years. This means that tourists below the age of 15 will not be permitted to operate the quad bikes. Book now and enjoy your adventurous experience in Dubai's desert landscapes!
In-Circle Double Seat Quad Bike in Red Dunes for Couples
In circle double seat quad bike means that we offer double seat quad bike for couples to ride in a circular route in red dunes. The area of circle route is almost 600 meter square. Here's what you can expect for a double seat quad bike experience in Dubai's red dunes for couples:
Intimate Experience
Riding together on a double seat quad bike in a circular route can create an intimate as well as memorable experience for couples. You'll have the chance to bond and share the excitement of navigating the dunes.
Scenic Views
Even within a circular route, the red dunes of Dubai offer breathtaking views. Moreover, the red sand and desert landscape provide a picturesque backdrop for your adventure.
Duration
Couples can typically enjoy multiple laps or rounds on the circular route, which can vary in duration 30 minutes or one hour. Moreover, this setup allows you to extend your riding time and fully immerse yourselves in the desert experience
Open Desert Double Seat Quad Bike in Red Dunes for Couples
Riding a double seat quad bike in Dubai's red dunes is really fun, especially for couples who want an amazing experience. Let's talk about what you'll get to do on this adventure.
Unrestricted Exploration
Riding an open desert double seat quad bike means you'll have the freedom to explore the vast and open desert terrain. Moreover, this unrestricted experience allows you and your partner to venture deep into the stunning red dunes.
Red Dunes Landscape
Dubai's red dunes are known for their striking beauty. The rich, red sand and the ever changing dune formations create a mesmerizing landscape that serves as a backdrop for your adventure.
Flexible Duration
We offer various durations for open desert quad bike adventures, ranging from shorter rides to longer, more extensive explorations. Choose the duration that suits your preferences and the level of adventure you seek.
Scenic Opportunities
The open desert provides numerous scenic opportunities for photos and appreciation of the natural beauty. Don't forget to bring a camera or smartphone to capture these breathtaking moments.
Sunset Rides
Consider booking your open desert quad bike adventure during the evening to witness the magical desert sunset. The red dunes take on a different charm as the sun sets, creating a romantic atmosphere for couples.
Extreme Red Dune Couples Quad Biking Desert Safari Adventure
Experience the ultimate thrill with our Extreme Red Dune Couples Quad Biking Desert Safari Adventure! Get ready for an adrenaline-packed journey through the iconic red dunes of Dubai, specially designed for adventurous couples.
As you and your partner embark on this heart-pounding escapade, you'll have the chance to explore the mesmerizing desert landscape on powerful double-seat quad bikes. Moreover, the adventure unfolds amidst the stunning red dunes, offering an exhilarating and unforgettable experience.
Feel the rush as you navigate the challenging terrain, conquering dunes of varying sizes, and marveling at the breathtaking desert vistas. Additionally, the open desert beckons you to discover its hidden beauty as you ride side by side with your loved one.
Safety is our utmost priority, and you'll receive comprehensive safety gear and instructions to ensure a secure and enjoyable journey. Moreover, this Extreme Red Dune Couples Quad Biking Desert Safari Adventure promises an extraordinary blend of adrenaline, romance, and the natural beauty of the desert – a perfect way to create lasting memories with your significant other in Dubai's enchanting landscapes.
Why Choose us for Couples Quad biking Dubai
When it comes to choosing the perfect provider for Couples Quad Biking in Dubai, here's why you should opt for us:
1. Expertise: We are seasoned professionals in the field of desert adventures. With years of experience, we know the Dubai desert like the back of our hand. You can trust us to provide you with a safe and memorable experience.
2. Safety First: Your safety is our top priority. Moreover, we adhere to the strictest safety standards, providing you and your partner with top-quality safety gear and thorough instructions before you embark on your quad biking journey.
3. Variety of Options: We offer a wide range of quad biking options to suit your preferences. Whether you're seeking a thrilling adventure or a romantic sunset ride, we have the perfect package for you.
4. Double Seat Quad Bikes: Our fleet includes double seat quad bikes, allowing couples to share the excitement of the desert together. These bikes are specially designed for comfort as well as safety.
5. Flexible Timings and Durations: We understand that every couple is unique, which is why we offer flexible durations for our quad biking tours. Choose a package that fits your schedule and level of adventure.
6. Easy Booking: Our booking process is straightforward and hassle-free. We make it easy for you to reserve your spot and plan your desert adventure in advance.
Choose us for Couples Quad Biking in Dubai, and let us take you on a thrilling journey through the red dunes, where adventure and romance meet in the heart of the desert.
Quad Biking Dubai with Pick and Drop
Our Company provide convenient pick and drop service to our customers at additional charges. Here's how our service typically works:
Pick-Up: Our pick-up service involves a designated vehicle, often a comfortable 4×4, arriving at a pre-arranged location to collect you and other participants in your group, including your partner if you're on a couples' adventure. The pick-up point is usually a hotel or a central location in Dubai.
Transport to the Desert: After pick-up, you'll be driven to the desert area where the quad biking adventure will take place. This ride may vary in duration depending on the location of the desert and your starting point.
Quad Biking Adventure: Upon reaching the desert, you and your partner will be provided with safety gear and introduced to your quad bikes. You'll then embark on your thrilling quad biking adventure through the stunning desert landscape.
Adventure Duration: The duration of your quad biking adventure may vary depending on the package you've chosen, with options ranging from 30 minutes to several hours. You'll have ample time to explore the desert and enjoy the experience.
Return Transport: After completing your quad biking adventure, the same vehicle that picked you up will be ready to transport you back to your original pick-up location in Dubai.
Drop-Off: You and your partner will be safely dropped off at the same location where you were initially picked up.
Couples Quad Biking Tour with Pick and Drop
Our Couples Quad Biking Tour with Pick and Drop service is the perfect way for you and your partner to embark on an exhilarating desert adventure while enjoying the convenience of hassle free transportation. Moreover, our driver will pick you up from your chosen location in Dubai, whether it's your hotel or a central meeting point, in a comfortable 4×4 vehicle. You and your partner will then be transported to the stunning desert landscape, where you'll have the chance to explore the mesmerizing red dunes on your own double-seat quad bike. Therefore, join us for an unforgettable desert journey tailored for couples.
Self-Drive Couples Quad Biking Tour
In self-drive couples quad biking tour we allow you and your partner to operate quad bike by yourself. The key feature of a self-drive tour is the freedom to explore the desert at your own pace. You'll have the flexibility to choose your route and navigate through the stunning desert terrain as a couple, creating an intimate and personalized adventure. In addition, safety remains our priority even on self-drive tours. Our tour guide will provide you detailed instructions and all necessary safety gears.
Quad Biking Tour Dubai Timing
Our ATV tour is designed to fit your schedule. We'll come to pick you up between 02:00 PM and 03:30 PM, so you have lots of daylight to enjoy the desert. The adventure will keep you busy for about six hours, giving you plenty of time for exciting rides in the sand and enjoying the beautiful views. After an exciting day, we'll bring you back between 08:30 PM and 09:30 PM. You can then head back to your place or continue your evening adventures in Dubai.
Whether you're a morning person or prefer the magic of a desert sunset, our daily desert safari tours offer a fantastic opportunity to experience the desert's allure at your convenience."
Quad Bike Availability
Our All Terrain Vehicles tours are available every day, providing you with the flexibility to choose the date that works best for you. Whether you're planning a weekend adventure or a midweek escape, we're here to make your desert experience memorable and convenient. Enjoy the thrill of ATV riding in Dubai's stunning landscapes any day you prefer.
Quad Biking Dubai Tour Payment Method
For added convenience, we give you the freedom to select your preferred payment option. You might decide to pay in cash for convenience when our driver comes to pick you up. In addition, we provide the choice of safe card and internet payments, guaranteeing a smooth transaction process.
Please be aware that although we accept a variety of payment options, such as cash, bank transfers, as well as ATM cards, there is a small 5% service fee associated with online payments made using bank transfers and ATM cards. We appreciate honesty and want to make sure you are aware of all of your payment alternatives so you can choose the one that best satisfies your requirements and preferences. We accept the following currencies
US Dollar (Dollar)
United Arab Emirates Dirham (AED)
Euro (Euro)
British Pound (Pound)
Saudi Riyal (Riyal)
How to Book a Couples Quad Bike Tour?
To book a couples quad bike tour our service is available 24/7. You can contact us WhatsApp or email us. Moreover, you can reach out us through our 'Contact Us' page. For your extra convenience, we offer pick-up and drop-off services throughout Dubai, Sharjah, and Ajman. Simply fill out the simple form on our website to get started, or contact us by email or WhatsApp using the information wisely provided on our page. We're here to make your excursion into the desert of Dubai as easy and enjoyable as we can.
Booking Requirement:
To book quad biking Dubai for couples, we request the following information:
Your complete name
The name of your hotel for both pick-up and drop-off arrangements
Your UAE Local mobile number.
In case you do not possess a local UAE mobile number, you have the option to provide us with your frequently used WhatsApp number. In the rare instance that neither of these options is available, you may share your hotel room number. However, this allows our driver to establish contact with you through your hotel's reception.
Maintaining this connection is of utmost importance as it empowers us to keep you updated regarding any tour modifications resulting from unforeseen circumstances or weather fluctuations. Furthermore, your safety and satisfaction remain our foremost priorities, and transparent communication ensures an unforgettable and hassle-free experience.
Staying safe while quad biking is super important, especially when you're riding these powerful off-road vehicles. To make sure your adventure is both fun and safe, there are some important things to remember.
First, always wear the right safety gear, like a special helmet and protective clothes.
Listen carefully to what our guide tells you and stick to the paths they say are okay to ride on.
Don't go too fast and keep a safe distance from other riders.
Be really careful when you're turning or going up and down hills. And please, don't ride a quad bike if you've been drinking or if you're not sure you can handle it.
Moreover, before you start, check the quad bike to make sure it's in good state.
Finally, be kind to the environment and always bring a friend with you on your adventure. That way, you can have a great time while staying safe!
Clothes and Shoes for ATVs Tour
It is important to select the appropriate attire and footwear for an ATV (All-Terrain Vehicle) tour. This will ensure your comfort, safety, and overall enjoyment of the experience.
Clothing
To safeguard your legs from potential scrapes, dirt, and insect bites, opt for long pants. Moreover, durable outdoor pants or jeans work well in this context.
Wear a long-sleeved shirt to keep your arms safe from the sun, tree branches, and stuff flying in the air.
If it's cold or hot, it's smart to wear layers. This way, you can add or remove clothes to stay comfy as the weather changes.
If it's cold or rainy, wear a waterproof jacket. If it's hot, go for a light and breezy shirt.
Wear special gloves for riding. They'll protect your hands as well as help you control the ATV better.
Footwear
Ensure your feet are adequately protected by selecting closed-toe shoes or boots with excellent ankle support and traction. Steer clear of open-toed footwear like sandals or flip-flops, as they lack the necessary protection.
Choose moisture-wicking socks to keep your feet dry as well as comfortable during the ride.
Quad Bike Safari in Dubai
Quad biking in Dubai offers a unique experience for couples looking adventure and excitement in the heart of the desert. This thrilling activity allows you and your partner to explore the breathtaking desert landscapes aboard powerful all-terrain vehicles. Here's a full description of what you can expect from a quad biking experience in Dubai tailored for couples with us:
As you and your loved one embark on this desert adventure, you'll be greeted by the vast and awe-inspiring dunes of the Arabian Desert. After a brief safety orientation and instructions provided by experienced guides, you'll gear up with helmets and other safety equipment, ensuring a secure journey.
Once on your quad bikes, the adventure truly begins. Feel the rush of adrenaline as you rev up your engine and tackle the ever-shifting desert terrain. In addition, the sensation of cruising over golden sands and conquering dunes of various sizes is both exhilarating and liberating.
The desert offers an ever-changing canvas, with stunning vistas at every turn. Couples can pause at scenic viewpoints to capture Instagram-worthy moments and relish the tranquility of the desert's vastness. Moreover, the orange hues of the setting sun or the cool serenity of the early morning desert make for the perfect backdrop to your romantic escapade.
Whether you're a novice or an experienced rider, we designed our tours to accommodate all skill levels, ensuring you both enjoy the adventure at your own pace. Couples can choose from various tour durations, ranging from a couple of hours to half-day excursions, allowing you to customize the experience to fit your preferences.
For couples seeking not only adventure but also a deeper connection, we offer the option of combining quad biking with other activities, such as camel riding or a traditional Bedouin-style desert camp experience. These added elements provide a glimpse into the rich heritage as well as culture of the region.